Success Story: Hanging on through the 2015 growing season
November 25, 2015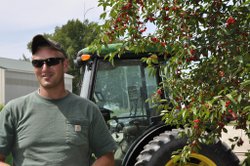 Pop quiz: In your first year as a professional farm manager, the challenge Mother Nature most likely will throw at you is:
A bitter cold, vine-damaging winter
A late May frost, just as buds are forming in cherry and apple orchards and on grapevines
An unprecedented August thunderstorm, complete with fruit-hammering hail
All of the above
Nathan Kulpa, a 2015 graduate of the NMC-MSU plant science program, will tell you the answer is D. But on the eve of Thanksgiving, the traditional culmination of the growing season, the Leelanau County native is sanguine about his first year as the farm manger of Peninsula Farms.
"I kind of enjoy the challenge. Being in farming my whole life, I understand that years like this happen," said Kulpa, 22, who also helps on his parents' farm. "On the good years you've got to prepare yourself for the bad years so you'll be around."
Brian Matchett is the coordinator of the program, which offers students an NMC degree plus an MSU certificate in one of four agriculture specialties. While the weather dealt growers a "triple whammy" this year, Matchett said that on the positive side, vegetable production was minimally affected. Also, the network of markets for growers — farmers' markets, distributors like Cherry Capital Foods and CSAs — all continued to expand.
So are the options in the plant science program. Since Matchett took over in 2013, he's restructured and updated the curriculum, adding more required courses to some areas and allowing more elective flexibility in others. All of the changes were made based on feedback from the agriculture industry, which provides one in every five jobs in Michigan.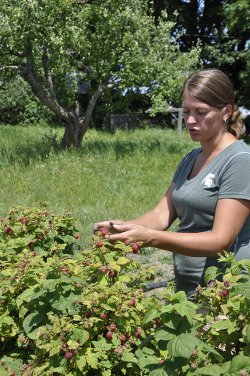 Bethany Newell is enrolled in fruit and vegetable production, one of the redesigned certificates, and worked at two different CSAs over the summer. She'll graduate next spring, completing a lifestyle change her family embarked on in 2010 when they moved north from Flushing, where she worked in the cable industry for ten years.
"I was very unhappy working indoors every day. It was tough on my soul," said Newell, 35. "Moving up here and getting into farming, it's so peaceful being outside, and working in nature."
Next up for the plant science program is a new certificate in agriculture operations-crop production, and a partnership with NMC's Aviation Division that will enable plant science students to take unmanned aerial systems courses as electives. Their "classroom" would be the cherry orchards of the Horticultural Research Station that MSU operates in Leelanau County. Matchett says it's a chance to pioneer the emerging technology of unmanned systems in a new application – specialty agriculture.
"We have all the pieces right here and it's a perfect fit for our assets," Matchett said, citing NMC's leadership in unmanned systems, MSU's in agriculture and the dominance of cherry production in the Grand Traverse region. "It's such a unique opportunity we have here."
Key to making it happen was the redesign of Matchett's job, from a half-time position funded by MSU to full-time funded jointly by MSU and NMC.
"That allowed me to commit more time to network with the different departments at NMC," he said. "We're excited for the next couple years."
Want more stories like this?
NMC students past and present are achieving success in the classroom and in their careers. This section showcases just a few examples.
Sign up for NMC Now to get these stories, plus upcoming campus events and media mentions, delivered to your inbox every other Wednesday. View past issues here »
Sign up now!
Tweet