Success story: Gamification of an anatomy class
September 14, 2016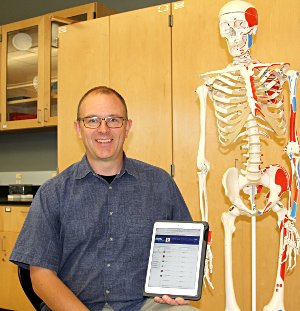 It was just another day in Anatomy and Physiology class, until instructor Nick Roster told students working in groups that the first group to finish a task would win five points.
The effect was immediate and obvious. Students leaned in across the lab tables, their body language showing focus, intensity and concentration as they worked together. By making the task into a race — a basic gamification concept — Roster simultaneously challenged and motivated students, fostered collaboration and self-directed learning.
It's those kind of results which led the science instructor to completely rebuild his A & P course on gamification principles. He received an NMC Foundation grant to pilot the idea in 2015, and in spring 2016 moved completely to a gamification structure.
"I'm using some of the game elements and an (online) platform to run the whole class," said Roster.
While the structure is a natural fit for students who grew up trying to get to the next level on PlayStation or Xbox, Roster said such gamification concepts as leveling up are ideal for learning.
"What this allows for is mastery learning. There's no 70 percent," he said. "Student performance is better because they have to get it right."
They have to get it right — eventually. The level-based structure of his class allows students to practice until they gain the knowledge or skills necessary to advance. Failure is not the disaster that it would be on a midterm or final exam.
"This allows students the opportunity to fail, or get it wrong, or misread the question, and still be successful," said Roster, whose e-mail signature includes a quote from Einstein: "I never teach my students, I only give them the opportunity to learn."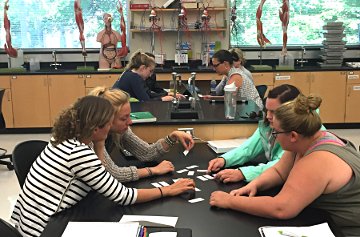 Anatomy and Physiology still includes a traditional hands-on lab, though much of what was the lecture format of the class can now be conducted online. That allows students to progress at their own pace, and frees up class time for questions and discussion.
Roster has discussed the potential to apply gamification concepts with colleagues in NMC's Business, Aviation, Computer Information Technology and other science disciplines. He says he knows one group that hopes the idea spreads: Students.
"My student reviews have never been better," he said. "They're hoping or wishing other classes were structured this way."
Want more stories like this?
NMC students past and present are achieving success in the classroom and in their careers. This section showcases just a few examples.
Sign up for NMC Now to get these stories, plus upcoming campus events and media mentions, delivered to your inbox every other Wednesday. View past issues here »
Sign up now!
Tweet