Success story: Degree in sights for mom of two
March 23, 2022
Two years ago, Visual Communications student Gabby Edgcombe was like 19,000 other adults in northern Michigan—she had some college credits, but no degree for her effort, which dimmed her job prospects.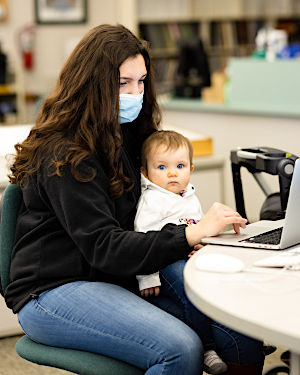 That will change this spring, when within weeks, Edgcombe, 27, will both graduate and celebrate her daughter's first birthday. Both accomplishments reflect NMC's ongoing, college-wide effort to continuously improve services to adult learners whose commitments often include families and jobs.
Edgcombe (left, with daughter Cozette) had just started at NMC in the fall of 2020 when she discovered she was pregnant. After the April 2021 birth, both mother and daughter battled postpartum anxiety and separation issues – something the Kingsley resident hadn't experienced with her son, now 5, and hadn't expected. She confided the problem to her instructor, Caroline Schaefer-Hills, who didn't blink at adding infant Cozette to the class roster.
"From conception to birth and now after, she's been part of the VisComm program," Edgcombe said of Cozette, now 11 months. "If I go into the college, she usually goes with me."
VisComm instructors Alex Smith and Glenn Wolff have accommodated her need to balance school and parenthood, too, said Edgcombe, who is also co-editor of the design team for NMC Magazine and a scholarship recipient.
"In the cases where (the children) are more distracting, or I have to have both kids, they always let me default to Zoom, or coming and going when I have to," Edgcombe said.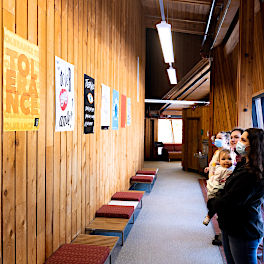 NMC strives to maintain such flexibility and prioritize persistence and completion with all students, but it's especially important with adult students. To that end, NMC offers:
A close personal relationship with someone on campus, like what Edgcombe built with Schaefer-Hills, or a success coach, an adviser or a counselor, is another key.
After graduation she hopes to transfer to the Savannah College of Art & Design — Schaefer-Hills' alma mater — earning a bachelor of fine arts degree in graphic design.
"I didn't know I could do something I loved and really enjoyed and make money," said Edgcombe, who first enrolled at NMC after her 2012 graduation from Mesick High School, but couldn't settle on a program and didn't earn a degree before having her first child. She decided to return to school post-COVID-19.
"If you better yourself, you're going to better your kids," she said. "I want better for my kids."
Want more stories like this?
NMC students past and present are achieving success in the classroom and in their careers. This section showcases just a few examples.
Sign up for NMC Now to get these stories, plus upcoming campus events and media mentions, delivered to your inbox every other Wednesday. View past issues here »
Sign up now!
Tweet