Success Story: New first lady Jill Biden will raise community colleges' profile
January 20, 2021
Comprehensive student support and the value of community colleges within higher education overall are topics NMC faculty and staff believe might come up during dinner conversation in the White House starting today.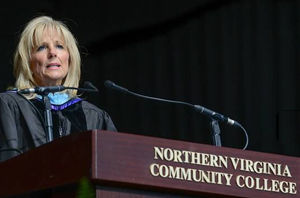 Photo courtesy NOVA Community CollegeWhile her newly-inaugurated husband works in the Oval Office, Dr. Jill Biden (right) will teach English at Northern Virginia Community College, where she's taught since 2009. Prior to that, she taught at Delaware Technical & Community College. Having a 28-year veteran of community college classrooms as First Lady presents a unique opportunity for NMC and the 1,100 community colleges nationwide over the next four years.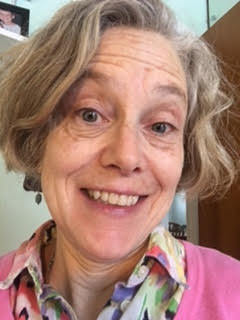 "Dr. Biden will have a nuanced understanding of our open access mission, and she'll know that our mission is fulfilled when all students are supported, not just admitted," said NMC instructor Janet Lively (left), who teaches English like Biden. "She'll know tuition subsidies are helpful but not enough. She'll know that a community college education is accessible to everyone when everyone has access to childcare, housing, transportation, health care, and healthy food."
"She has that first-line, real time experience, and she can bring that experience to the White House and advise the president on what should be done," agreed Stephen Siciliano, NMC's vice president for academic affairs. "We can look at statistics and we can look at reports, but there's something really valuable about that experience, which enables our leader to have that connection."
Beyond her teaching career and a dissertation that focused on community college retention, Siciliano noted that Biden officially promoted community colleges while Second Lady during the Obama administration. Under her leadership, that administration "elevated the image and focus on community colleges," he said.
"I'm very hopeful that there will be a continued focus on community colleges, and the role of community colleges in rebuilding the economy," he said.
The American Association of Community Colleges, of which NMC is a member, has enumerated multiple policy priorities for the new Biden administration, from economic and workforce development to financial assistance for students to investing in rural community colleges like NMC. In addition, Jill Biden's classroom role will be a daily reminder of the essential function of education.
"It is easy, as a leader, to get caught up in crisis or to lose one's bearings in a sea of endless administrative challenges. But time invested in the classroom can bring clarity and remind you  that teachers transform lives and help enable students' dreams," said NMC President Nick Nissley. "The First Lady's investment in continuing to serve as a teacher is a direct investment in our students' futures."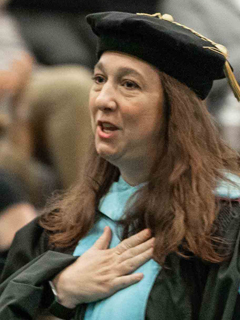 NMC English faculty member Dr. Cathy Warner (right) said Biden's first-hand knowledge of the varied identities of community college students, including non-traditional older students seeking retraining, military veterans, and parents, bodes well for an overdue broadening of college readiness beyond four-year university preparation.
"As a community college, we are able to translate education into the needed skills and certifications our economy needs - and our national economy is going to need these contributors in order to recover from the many concurrent challenges our nation faces," said Warner, who won NMC's teaching excellence award in 2019.
Siciliano agreed that President Joe Biden will have "an overflowing plate," making Jill Biden's access invaluable.
"To have his partner be able to speak directly to an important part of higher education is going to be really great," Siciliano said.
Want more stories like this?
NMC students past and present are achieving success in the classroom and in their careers. This section showcases just a few examples.
Sign up for NMC Now to get these stories, plus upcoming campus events and media mentions, delivered to your inbox every other Wednesday. View past issues here »
Sign up now!
Tweet