Success Story: Legislation advances to allow community colleges to award BSNs
December 8, 2021
Legislation to allow Michigan community colleges to offer bachelor's degrees in nursing moved forward Tuesday, putting NMC another step closer to helping fill hundreds of staff shortages at Munson Medical Center, among other hospitals.
The BSN bills, introduced by state representatives John Roth, R-Traverse City, and John Damoose, R-Harbor Springs, advanced from the House Education Committee to the full House.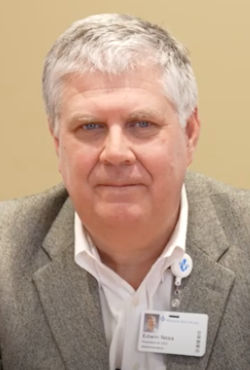 In video testimony to the committee last month, Munson Healthcare CEO Ed Ness (right) said the legislation is "critical" to Munson's ability to serve half a million northern Michigan residents. As the COVID-19 pandemic persists, Traverse City's Munson Medical Center, the largest of the system's nine hospitals, is short nearly 200 bedside nurses, Ness said.
"Now, more than ever, we need to do everything we can to encourage new students to enter the nursing profession and remove barriers for degree and career advancement," he said.
Roth knows the need personally. His wife has worked as a floor nurse at Munson for more than 30 years. She is currently taking on extra shifts to help cover the shortage, he said at a November press conference introducing the legislation.
"We have a need, and a dire need at this time," Roth said. "It's a practical fix. We just have to empower (community colleges) through law."
BSNs were originally part of a 2012 bill that permitted a few community college bachelor's degrees to be awarded, but wound up being stripped due to opposition from four-year colleges and universities.
NMC went on to become the first community college in the state to offer a bachelor's degree, in maritime technology. A decade on, it's imperative to add BSNs, said NMC President Nick Nissley, Ed.D.
"Community colleges like NMC play a very pivotal role in addressing the need for more health care workers in the communities that we serve," he said.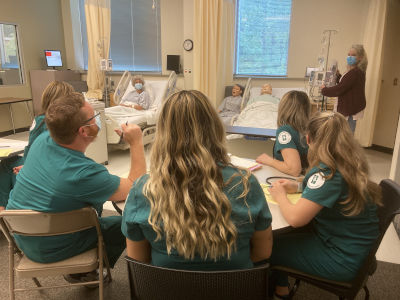 Interim NMC Nursing Program Director Tami Livengood (right) with a nursing classNMC nursing students already perform well on licensure exams. Scores released just last month showed that for the second year in a row, more than 90 percent of NMC nursing students pass the national NCLEX exam required to obtain an RN license. That exceeds both state and national averages, most recently 83 percent.
Ness said Munson hires more than 100 nurses per year with an associate degree. The goal is that 80 percent earn their BSN. Currently, only 50 to 60 percent do.
"This legislation would allow our existing workforce the access and convenience they need. And making BSN degrees more accessible and affordable would not only support our existing nurses, but will also help increase the talent pipeline of new nurses," Ness said.
Want more stories like this?
NMC students past and present are achieving success in the classroom and in their careers. This section showcases just a few examples.
Sign up for NMC Now to get these stories, plus upcoming campus events and media mentions, delivered to your inbox every other Wednesday. View past issues here »
Sign up now!
Tweet