Success story: Traditional and returning students find opportunity at NMC
February 22, 2023
Students Gabe Parrish and Jim Schiffer are both growing their careers in NMC's Surveying Technology program, even with four decades in between them.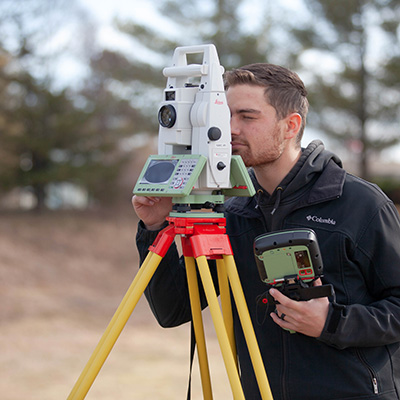 Gabe ParrishParrish, 19, will graduate with his associate degree next year. Schiffer, 59, a professional engineer for the Grand Traverse County Road Commission, will complete the credentials to become a licensed surveyor this summer.
The surveying industry could use a lot more like them. An aging workforce, lack of awareness of the career opportunities, and demand for surveying skills have created the shortage. Launching a Surveying Technology associate degree in 2019 was NMC's first response. Now, Ryan Deering, hired this month as a dedicated recruiter for the Surveying Technology program, is tackling the awareness problem head on.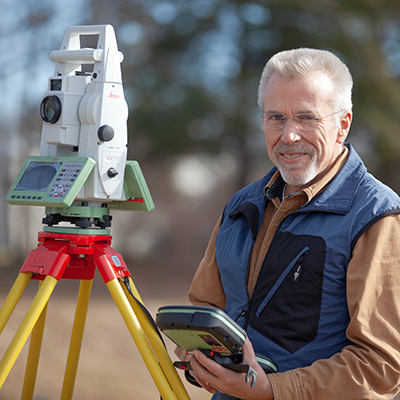 Jim Schiffer"It's limitless, what you can do with a surveying degree," said Deering. He said NMC's program is unique in that it offers instruction for land, marine, and air applications.
"Everything is combined. It's woven together nicely," he said.
In fact, the workforce need is so dire that an industry donor gave NMC the funds to hire Deering.
"There is a real need and a shortage of survey technicians. Industry has recognized that need," said Ed Bailey, director of NMC's Marine Center.
Surveying instructor Carl Shangraw said most of his students are sponsored by their employers. He's looking forward to Deering filling his classroom.
"I'm very optimistic. It's a world-class program by any measure," said Shangraw, who taught for 23 years at the university level before joining NMC's faculty three years ago.
Land surveying classes, underwater ROV classes and drone classes are all taught at the Parsons-Stulen Building on NMC's Aero Park campus. For marine applications, NMC has a campus harbor and vessel on West Grand Traverse Bay for real-world practice. For air, the college has access to an airfield in Yuba.
"It's the integration part that really sets us apart. Nobody can touch our facilities," said Shangraw.
Industry leader Leica also supplies NMC with $1 million in donated surveying equipment each year.
"I like the change of environment every day, (and) the great equipment they give us," Parrish said.
NMC's small classes mean that students get plenty of time with that top-notch equipment, which is important to employers, Deering said.
"You really get a lot of hands-on with the equipment," he said. "Employers are really looking at that."
As an engineer already, returning students like Schiffer can earn the surveyor credential with 30 credit hours, or about two semesters. In addition to the Road Commission, Schiffer will use the skills in his own business. 
"If you love anything technical, and you love solving problems, and you love being outside, it's all there," he said.
Besides the staff and facilities, NMC's student support is "second to none," Shangraw said.
"Every school says they're student-centered. (NMC) means it."
---
Want more stories like this?
NMC students past and present are achieving success in the classroom and in their careers. This section showcases just a few examples.
Sign up for NMC Now to get these stories, plus upcoming campus events and media mentions, delivered to your inbox every other Wednesday. View past issues here.
Sign up now!
Tweet