Success story: First official count shows college ahead of goal pace
December 14, 2022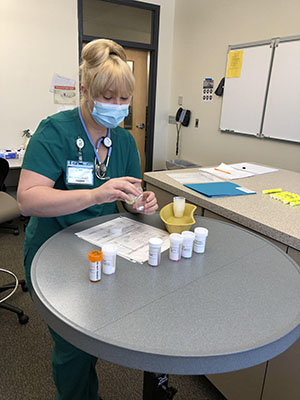 A Fundamentals of Nursing student calculates medication doses by working with orders, medication bottles, and specific patient scenariosOn off-road racetracks, in laboratories, in downtown Traverse City, and in campus classrooms this semester, experiential learning (EL) stretched the boundaries of instruction in more academic areas than ever before, to the benefit of more students than ever before.
NMC's first official count of experiential learning opportunities (ELOs) this fall shows that more than half of all students had one. That puts the college ahead of the pace necessary to achieve a strategic plan goal that every credential-seeking student have an ELO by 2024.
"College has traditionally done a great job at preparing students intellectually for life, but not in other areas," said Brandon Everest, sociology faculty member and co-director of NMC's Experiential Learning Institute. ELOs help with problem-solving, skill development and values, which make a college graduate into a well-rounded citizen and community member. At NMC, verified ELOs actively engage learners in a cycle of experience, reflection and action.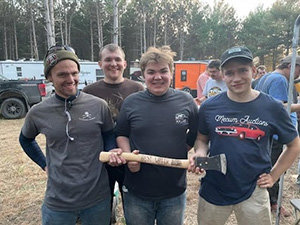 Auto Technology student Andrew Mikowski, left, and his Backwoods Baja teammatesIn October, Auto Technology student Andrew Mikowski participated in the NMC Motorsports Club's Backwoods Baja race in Wisconsin. Since then, he and other club members have been reflecting on that race to improve their performance in the Blizzard Baja in Houghton in February.
"We're moving forward from the data and experience we gained," said Mikowski, who both drove in the race and was part of the pit crew. "We're using that information to find out where are the weak points, what designs are working, what designs aren't. What can we do from a maintenance perspective and a people perspective."
Reflection is the part of the EL cycle that makes the biggest difference, said nursing instructor Betsy Boris. In summer 2021 she was an Institute fellow, converting traditional course content and her own teaching style to EL. Now, instead of always functioning as an expert, she is sometimes a silent observer, or a facilitator, watching as her students engage and waiting for them to make discoveries on their own.
"Part of the EL classroom theory is you're creating a different environment for your learners," she said. "So much of the doing and being the expert, we're missing the reflections."
The reflective process transforms mere active learning into experiential, said Institute co-director Kristy McDonald. Boris likens it to a spiral, where the students make connections not only with the material, but with her and each other.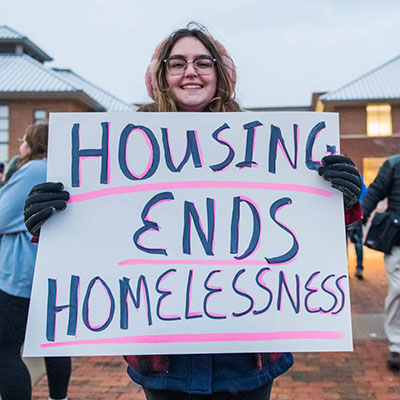 An NMC student takes part in the 7th annual Walk for Health & Housing, an experiential learning event "It gave more of a depth to what we learned," she said. "It really did enrich and take it to the next level."
Mikowski said that learning from other students in engineering and welding also enhanced what he learned in the race.
"Getting to work and collaborate with students in different programs. It's a unique opportunity I didn't have anywhere else at NMC," he said. "From a project perspective, it allows us to come to the best outcome."
The fall count tallied the unduplicated ELO headcount at 1,581 students, or more than half of the 3,100 students enrolled. More than 2,700 total experiences were tallied, meaning some students had more than one ELO. ELOs were offered by 61 instructors teaching 148 sections.
"We feel really good about the work that teachers and students are doing around EL," said Everest. "They're happening online, they're happening in all our formats."
Co-curricular ELOs offered outside courses, like the Backwoods Baja race, are also being tracked. McDonald and Everest, who have been EL advocates at NMC since 2016, say that now that systems are in place, ELOs will improve in both quantity and quality.
"We're identifying strengths and opportunities for growth," Everest said.
"There's still work to be done in every area," McDonald said. "This is a never-ending expedition. There is so much to explore and develop."
Want more stories like this?
NMC students past and present are achieving success in the classroom and in their careers. This section showcases just a few examples.
Sign up for NMC Now to get these stories, plus upcoming campus events and media mentions, delivered to your inbox every other Wednesday. View past issues here.
Sign up now!
Tweet