Success story: Alumnus spreads green infrastructure gospel
April 20, 2016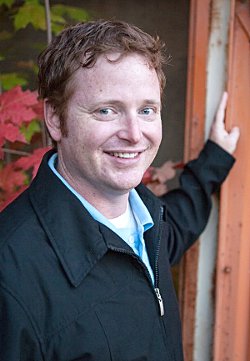 Going green isn't an Earth Day catchphrase for Nate Griswold — it's a mission that the 2000 alumnus and boomerang entrepreneur is fervently spreading throughout northern Michigan.
Griswold is the founder and president of Inhabitect, a Traverse City company that designs, builds and grows living architecture, specializing in green roofs. Working at a Chicago firm following his graduation first from NMC and then Michigan State in 2004, Griswold's early career paralleled the rise of green roof technology. Green roofs he consulted on now grace some of the nation's premier buildings, including the Lincoln Center for the Performing Arts in New York City, the Perot Museum of Science & Nature in Dallas, and the California Academy of Sciences in San Francisco.
"I was able to go from zero to 100 miles per hour," Griswold said of the eight years he spent working on 1,000 projects around the country.
But by 2013, Traverse City was beckoning him back, and the timing seemed right to start a business.
"I saw development happening here, and I was ready to come home," said Griswold.
In Inhabitect's three years, Griswold has overseen green roof installation at Cherry Capital Foods, Munson Medical Center's Cowell Cancer Center and several mixed-use developments in and around downtown. But he's not just about growing his own business. Griswold wants to change the local building industry so that the technology he says offers "triple bottom line benefits" — economic, environmental and social — becomes as common as shingles and two-by-fours.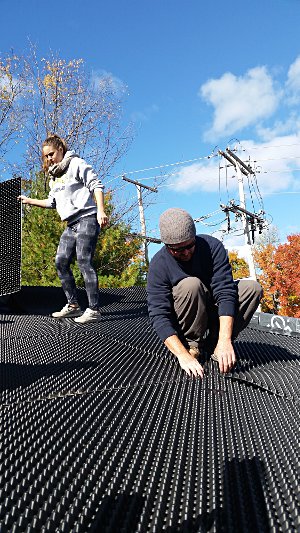 "I've been trying to implement green infrastructure into the local codes and building ordinances," he said. At the proposed Costco store near the airport, he envisions a green roof as a stormwater management tool. At the future addition to the Dennos, it could serve as an outdoor pavilion and sculpture garden, available for private events and maximizing the use of the museum's footprint.
"I think there's room for green infrastructure on every single project," he said.
He's also giving back to his alma mater. Last fall Griswold worked with NMC construction technology students including Madalyn Popp, right, to install a green roof on the shed built as a demonstration project at the Grand Traverse Conservation District. Students will build a second green roof shed at the Traverse City Community Gardens this fall. And he donated a green roof doghouse to the Sweet Earth Arts & Music silent auction held earlier this month.
"Without NMC, I wouldn't be where I am, for sure," said Griswold.
A green roof by the numbers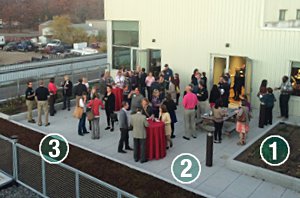 Features of the green roof that Inhabitect installed at Cherry Capital Foods:
Vegetable planting bed, which employees grow and use in the company kitchen
Pervious pavers, which help drain rainwater
Planting beds for ground cover
---
Want more stories like this?
NMC students past and present are achieving success in the classroom and in their careers. This section showcases just a few examples.
Sign up for NMC Now to get these stories, plus upcoming campus events and media mentions, delivered to your inbox every other Wednesday. View past issues here »
Sign up now!
Tweet