Success Story: Stephen Siciliano Embarks On Fourth Decade At NMC
August 19, 2015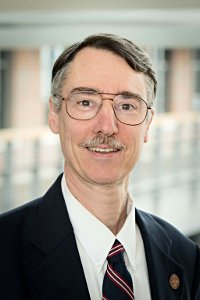 School and Scouts.
Back in fifth grade, Stephen Siciliano found two things he liked and decided to stick with them.
Since then, he's climbed to the pinnacle of both worlds. He's vice president of educational services at NMC, and not only an Eagle Scout himself but a father of three more — all of whom also attended NMC.
Yet as he embarks on his fourth decade on campus, Siciliano, who wears a Scout uniform in his campus profile picture, shows no sign of boredom or restlessness. He's excited to continue work on the challenges the college faces, like developmental education, learning outcomes and internal communication. Viewed through the lens of history, his chosen academic field, he is confident those challenges will be met. (More on those in a moment.)
Siciliano's own history is colored by a community college — Nassau Community College on Long Island, NY, where he grew up. A first-generation college student, he had an "absolutely wonderful experience" and chose to pursue his master's and PhD degrees in the hope of teaching at the community college level himself. So when Walt Beardslee, one of NMC's founding faculty members, came to recruit at a National History Conference which Siciliano also happened to attend, he found an eager candidate.
"I'm thinking, 'You don't have to sell me. I'd love to teach at a community college,'" Siciliano, 59, recalled of that interview.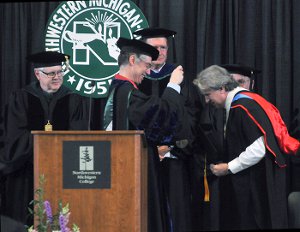 He spent 11 years teaching at NMC, including six as director of the Humanities division, his first taste of administration. In 1996 he moved into his current role as the college's top academic officer. One of the best changes he's seen during that time is NMC's shift from once-a-decade accreditation to a continuous academic quality improvement process, known as AQIP.
"They focus our attention," he said of the AQIP action projects, including, not coincidentally, those three challenges of developmental education, learning outcomes and communication.
"People say, 'we want to get this done,'" he said, citing developmental education, the project closest to completion. "I come away from that meeting so energized."
And that history is why he thinks that the more recently tackled projects like learning outcomes and communications, will indeed be solved.
Siciliano's parallel world of Scouting has been transformed by quality improvement, too. While he no longer leads an active troop, like he did for a dozen years with just-retired engineering instructor Jim Coughlin, Siciliano is still involved as a liaison between two local units and the broader Boy Scout organization.
"They've clearly moved to quality metrics, just like our college. How can we improve the experience for the boys?" Siciliano said.
Even after 30 years as an educator, that question still animates Siciliano, who plans to keep pursuing the answer for a little while yet.
"I hope I'm here," he says of his plans for five years down the road.
Want more stories like this?
NMC students past and present are achieving success in the classroom and in their careers. This section showcases just a few examples.
Sign up for NMC Now to get these stories, plus upcoming campus events and media mentions, delivered to your inbox every other Wednesday. View past issues here »
Sign up now!
Tweet