Success Story: NMC student seeks to lead international honor society
Adult learner champions inclusion of nontraditional students
April 7, 2021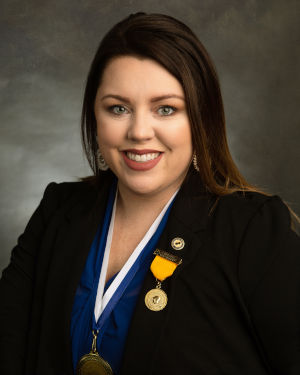 This Saturday, Amber Marsh will find out if she'll spend the next year as a vice-president of an organization seeking to advance the success of more than 200,000 community college students  in 11 countries worldwide.
It's a position the Kalkaska County resident, licensed cosmetologist, mother and NMC student never imagined herself seeking two or three years ago. But the difference NMC's chapter of Phi Theta Kappa (PTK), the international community college honor society, has made in Marsh's own life has compelled her to try and advance its mission still further.
"I know this gives people tools for success," said Marsh, who's president of NMC's chapter. "(PTK) is an organization that has helped me to grow, push me, challenge me."
It's been a decade since an NMC chapter member has sought international office, said chapter adviser Kari Kahler. She believes Marsh, one of three finalists for NMC's district vice presidency, has a good shot at being the first from the college elected to the international level.

"She has embraced the ideals of Phi Theta Kappa. Her heart is service," Kahler said, adding that under Marsh's leadership, NMC's chapter was just named the most distinguished among 31 chapters in Michigan. "She's just in it for all the right reasons."
While the conference is mostly virtual, Marsh and other finalist candidates will be in Orlando for the vote.
With this year's election prioritizing inclusion, Marsh thinks she's a fitting candidate. She's studying business administration and hopes to one day start her own business in the beauty industry.
"I want to be a voice for nontraditional students, for trade students," she said.
Marsh's interest in advocacy and policy traces to a 2019 conference she attended at the Roosevelt Institute in New York as a Forge Fellow. She's now on the national leadership board for the institute founded by the former U.S. president. PTK invited her to present on her trip, and wound up extending an invitation for membership, which requires at least a 3.5 grade point average.
"I didn't think I could afford the ability to be in a scholarly organization," said Marsh, who also runs a food and clothing pantry at Forest Area Schools, where she graduated from high school and where her two children now attend, and founded a women's conference in Kalkaska.
But she's found PTK dovetails well with her interests in community. One project she led was sewing reusable cloth face masks for residence hall students, to reduce the waste of disposable masks. She'll be joining the NMC Foundation Board as a student member, and is also a member of the strategic planning steering committee launching this month.
"I just have a passion for PTK and how it grows community at NMC," Marsh said.
Want more stories like this?
NMC students past and present are achieving success in the classroom and in their careers. This section showcases just a few examples.
Sign up for NMC Now to get these stories, plus upcoming campus events and media mentions, delivered to your inbox every other Wednesday. View past issues here »
Sign up now!
Tweet