Success Story: Emergency aid buoys student on verge of graduation
February 17, 2021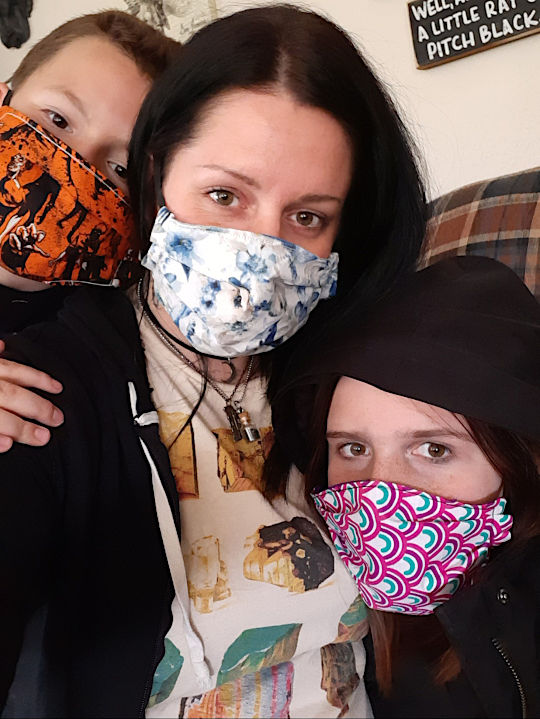 After investing more than 10 years in pursuit of her associate degree, the pandemic almost brought psychology student Brandee Sasser-Drone (left) to her breaking point, but federal aid distributed by NMC has kept her on track to graduate this semester and continue toward a bachelor's degree.
The 35-year-old mother of two has twice received emergency financial assistance, in the spring of 2020 and again just this month. This second round of COVID-19 aid is part of the $22.7 billion Congress allocated to higher education in the Coronavirus Response and Relief Supplemental Appropriations Act (CRRSAA) passed in December 2020. NMC received $4.1 million total, of which $1 million was earmarked for direct student aid.
Sasser-Drone received $1,200 of that, one of more than 900 NMC students who received funds this month based on financial need and enrollment status. The average award was $964.
"This last little bit of money, I paid bills that have been on the back burner since summer," she said. "We've been living off of one cell phone, one car. I had to let car insurance lapse. Really vital, important things that NMC has helped us get back to a secure place."
Nursing student Shelby Hansard, 26, who also received assistance in both rounds, agreed. She too juggles parenthood of an 18-month-old daughter with work as an LPN and school.
"The funds were helpful and allowed me to buy groceries for my family this month as well as a textbook that I really needed," Hansard said.
The pandemic upset all Sasser-Drone's financial security, from a paycheck to child support for her 11- and 8-year-old, and added demands like supervising their virtual education at home.
"All of our usual, consistent financial securities, as small as they were, they weren't coming in,"  she said. "I didn't think I'd be able to finish school."
The dean's list student credits NMC psychology instructor Shiloh Smith for providing emotional support during the last semester.
"Shiloh kept me so motivated, so driven," Sasser-Drone said. "I'm four-pointing my classes, which gives me a lot of pride."
It's also given her admission to Central Michigan University to finish her bachelor's degree. She found out this week she was accepted to an online program starting this fall. She hopes to eventually work in mental health services within a law enforcement or correctional setting.
"I wouldn't have been able to continue if it wasn't for this help this year, and the NMC staff," she said. "I highly recommend NMC to anyone who's thinking about going to school."
NMC developed a system to quickly and automatically distribute 85 percent of this round of student aid to those who qualified. An application process opens Thursday to award the remaining funds. Students will be notified directly how to apply, and the entire $1 million is expected to be distributed by mid-March.
The NMC Foundation's Be What's Possible campaign also has supported the emergency needs of students during the pandemic through the Fund for NMC. Give to the campaign here.
The $3 million NMC will receive in institutional funds this round must be used for expenses that are directly related to COVID. NMC will look at infrastructure improvements related to health and safety in buildings, and technology improvements.
"This financial support is critical to helping NMC meet the needs of the learners of our region" said Nick Nissley, NMC president. "In 2020, we pivoted quickly and made major changes to keep delivering education, while also keeping our students and employees safe, all without raising tuition. While we are proud of the work we've done to balance the budget so far, we know that some of those adjustments are one-time fixes. The pandemic will have a longer lasting impact on many industries, including higher education and we need to continue to look for ways to right the ship."
NMC-distributed COVID-19 emergency relief funds
2020:
$1.06 million
Recipients: 710
Average award: $1,496
2021 to date:
Available: $1.06 million
Distributed: $898,375
Recipients: 932
Average award: $964
---
Want more stories like this?
NMC students past and present are achieving success in the classroom and in their careers. This section showcases just a few examples.
Sign up for NMC Now to get these stories, plus upcoming campus events and media mentions, delivered to your inbox every other Wednesday. View past issues here »
Sign up now!
Tweet