Success Story: Collaboration illuminates green energy solutions
December 6, 2017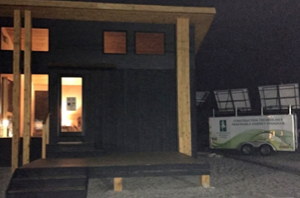 Commuters hurrying home along Eighth Street these dark evenings will find a bright spot, thanks to a collaboration between NMC and Roost.
NMC's solar power trailer is lighting up the Roost prefabricated tiny home located at 444 E. Eighth, opposite Family Video. The home is illuminated from 5–8 p.m. nightly.
The collaboration is designed to show what's possible with solar energy, said NMC construction technology adjunct instructor Mike Schmerl.
 "It does work, in northern Michigan, in the winter," said Schmerl.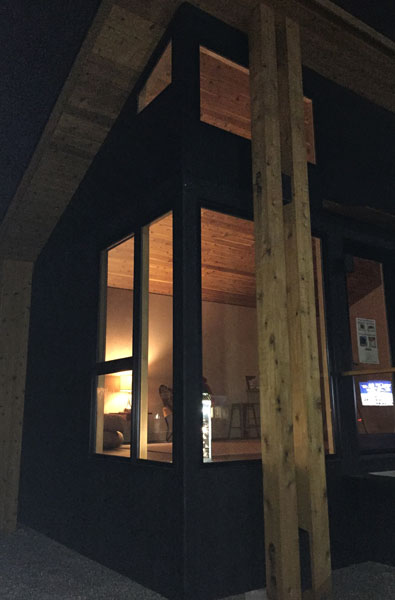 And it's ideal for Roost, said Geoff Nelson, a co-founder of the company that created the 370-square-foot, finish-ready home that's occupied the former vacant lot since June.
"There's a great many people who want to live smaller, greener," Nelson said. Roost's other green features include renewable materials, a sustainable building process and tight building envelope to maximize energy efficiency.
Parked on the home's west side with its solar panels tilted south, the trailer is only illuminating the home, not heating it or powering appliances. Still, it kick-starts consideration of solar, said Schmerl, whose own Traverse City home is 50 percent solar-powered.
"All things are possible," Schmerl said. "What we demonstrate is expandability."
NMC first developed the solar trailer in 2006. Schmerl updated it for the Roost project using equipment sold to the college at a discount.
"The technology has become more user-friendly, easier to understand, and more adaptable to people's power requirements," said Schmerl. "Using that trailer and our classroom skill set, we can adapt to almost any inquiries."
As electric cars become more prevalent, Schmerl sees more opportunity for solar growth. The website Charge Hub lists 26 public charging stations in Traverse City, including at the Cambria Suites hotel, the original Meijer parking lot, and the Old Towne parking deck just down the street from Roost.
"Why wouldn't they package the sale of an electric vehicle with the sale of the charging equipment, which would lead to the sale of the solar," he said.
Nelson agreed that he's seeing interest increase among all kinds of clients, from millennials to boomers.
"It's been super encouraging to see the people responding to living smaller, greener, low-maintenance," he said.
NMC explores third potential renewable energy source
NMC uses solar power at the Parsons-Stulen Building on the Aero Park campus and wind power on the University Center campus. Now, geothermal energy is being considered as a power source for the renovated West Hall on main campus. Testing in September indicated that geothermal could be a viable energy source for the overhauled, expanded building. Architects and engineers will explore the possibility further during the next phase of the project. Construction is expected to begin in summer 2018.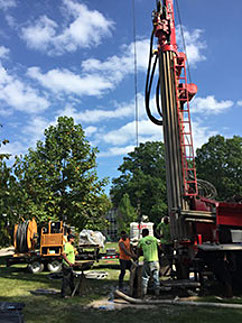 Geothermal testing being conducted on NMC's main campus in September, 2017
---
Want more stories like this?
NMC students past and present are achieving success in the classroom and in their careers. This section showcases just a few examples.
Sign up for NMC Now to get these stories, plus upcoming campus events and media mentions, delivered to your inbox every other Wednesday. View past issues here »
Sign up now!
Tweet