Success Story: Student nurses volunteer at Hagerty Center clinic
March 17, 2021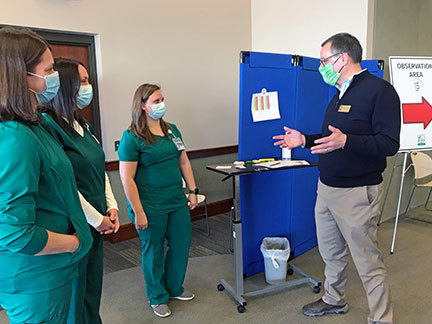 From left, nursing student Bethany Newell, instructor Amy Trouslot, student Jessica Wichtoski and NMC President Nick Nissley at the Hagerty Center vaccine clinicNMC nursing students this month began contributing to the community-wide effort that has made Grand Traverse County a statewide leader in COVID-19 vaccinations.
Senior practice students have been volunteering at the mass vaccine clinic hosted at NMC's Hagerty Center every Tuesday since March 2. Instructor Amy Trouslot said the health department contacted her seeking help to vaccinate the 800–1,000 people the site sees daily. It offers the "perfect opportunity" for students to practice community health care, which broadens the acute, hospital care they typically focus on, Trouslot said.
Patti Friedli, a nurse practitioner at the Grand Traverse Health Department and the lead nurse at the March 9 clinic, said the NMC students' participation freed up other health department staff. A total of 32 nursing students will participate in the clinic through April 20.
"We're so grateful to have these students. We really don't have a lot of extra help available. Some of us can go back and do our regular job," Friedli said.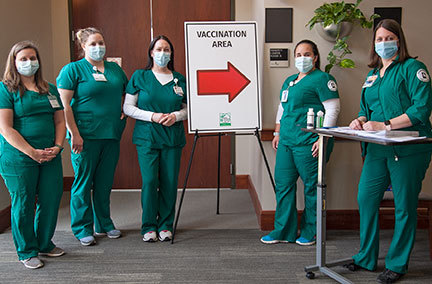 From left, NMC nursing students Jessica Wichtoski and Kalynn Britten, instructor Amy Trouslot, and students Jamie Grainger and Bethany Newell at the Hagerty Center ClinicFor the students, most of whom are already working, the clinic was a gratifying place to be as the pandemic marks its one-year anniversary.
"It feels good, protecting the community," said Jessica Wichtoski, 29, a nurse assistant at Munson Medical Center.
Jamie Grainger, 34, agreed. She's a nurse assistant assigned to the cardiac ICU at Munson, but she's been floated to the COVID unit.
"It's rough, and I'm happy to see people doing it," she said, as a steady stream of patients flowed through the nine vaccination stations set up at the Hagerty Center.
"It was a crazy time," said Kalynn Britten, 31, a phlebotomist at Munson, of the pandemic's beginning. She added that on a personal front, while she's not yet been able to see a nephew born in November, she thinks the wait will be over soon.
"It's those small steps forward. We're getting back to some sort of normal," she said.
The students, who will all graduate in May, spoke highly of their NMC education overall.
"I'm so happy I made this choice," said Grainger, who was accepted elsewhere but chose NMC. "The instructors have been amazing."
"You can tell these instructors care and they have such a passion for what they're teaching," Britten agreed.
The State of Michigan lists Grand Traverse County as one of the top three counties for vaccination coverage statewide, with 38.7 percent of the population over age 16 vaccinated as of March 15. The statewide average is 24.9 percent. Grand Traverse County is also significantly ahead of the statewide average with the priority group of people ages 65 and over.
Friedli said the health department's focus on seniors and NMC making the Hagerty Center available has driven that success.
"We have a great facility partnered with NMC. You can just feel the energy and excitement in this building," she said. "Everyone has pitched in. That's what public health is."
Want more stories like this?
NMC students past and present are achieving success in the classroom and in their careers. This section showcases just a few examples.
Sign up for NMC Now to get these stories, plus upcoming campus events and media mentions, delivered to your inbox every other Wednesday. View past issues here »
Sign up now!
Tweet