Success Story: Virtuosos at virtual, millions in aid and scholarships
April 21, 2021
Amid abundant challenges, bright spots and silver linings are still plentiful as NMC's first full academic year under COVID-19 restrictions draws to a close.
Recapping the challenges: For safety, about 85 percent of NMC's classes were offered remotely in both fall 2020 and spring 2021 semesters, a complete flip of the usual proportions. College and student events both pivoted to virtual, changing the feel of the campus community. Two brand-new state workforce investment programs, Futures for Frontliners and Michigan Reconnect, were built and unveiled, and COVID safety precautions kept Dennos volunteers at home.
Classes and student events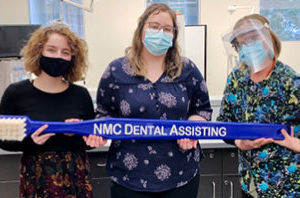 Due to their accreditation requirements, health programs like dental assisting and nursing were among the few holding face to face classes in 2020–21.
"We had a great group of students who realized there might be a few bumps in the road, but were always grateful to be face-to-face," said Dental Assistant Program Director Deb Kaser.
There were no cases of COVID-19 among her students, thanks to social distancing and triple precautions: masks, face shields, and eye protection. Just two students had to quarantine due to household members' illness, but they were able to keep up thanks to online instruction and proctored testing.
Director of Advising Lindsey Dickinson said that virtual options have been a silver lining for her office, too, especially for students who are parents or have transportation issues.
"It has leveled the playing field in terms of access. Sometimes, getting people to campus was the biggest barrier," Dickinson said. "We can still build relationships with our students."
She is especially proud of the fact that the annual Career Fair — one of the last in-person college events in March 2020— carried on in a virtual format in March 2021.
"We had 12 students who got interviews off the back of that Career Fair," Dickinson said.
Financial aid
2021 opened with three immediate priorities: Distributing $1 million in federal emergency student aid approved in 2020; awarding aid for the state's Futures for Frontliners program, and aid for Michigan Reconnect. Both Frontliners and Reconnect cover in-district tuition for students who worked during the initial pandemic shutdown in spring 2020 (Frontliners) or are age 25 and lack a college degree (Reconnect.)
The two programs were the first new aid in decades, said NMC Financial Aid Director Linda Berlin. In addition, Frontliners drew a much larger response than expected— more than 1,800 students, according to admissions director Cathryn Claerhout. For spring, 529 enrolled at NMC.
"We had no system set up to handle it," Berlin said. But NMC's Information Technology Services stepped up.
"NMC is better positioned than a lot of schools. Our IT, they rocked," Berlin said. Using the new systems, NMC has awarded $403,000 in Frontliners scholarships with another $83,000 pending for fall.
Awards for Michigan Reconnect start this summer. Also coming up for Berlin's team: Awarding another $2 million in emergency student aid through the federal American Rescue Plan.
After an initial shutdown, since August 2020 the museum has remained mostly open to the public, albeit with limited hours. Events like concerts and artist workshops are still virtual, however.
"We've gotten really good at Zoom programs," said Executive Director Craig Hadley, noting the Dennos has virtually presented artists from as far away as Iceland.
A silver lining has been new partnerships. The Dennos recently pooled grants funds with Manistee's Ramsdell Center for the Arts to present Windy City Blues, a virtual concert featuring two Chicago artists neither could have afforded on their own. Offered free online, it led to about 35 new subscribers to the Dennos YouTube channel.
 "We definitely are reaching new audiences," Hadley said. "It's been an opportunity to expand our reach, and who we've been able to engage."
Volunteers have begun to return to the museum, and Hadley looks forward to increasing their numbers, which will allow the museum to expand hours beyond the current Sunday–Thursday.
"That's going to get us weekend coverage," Hadley said.
Phi Theta Kappa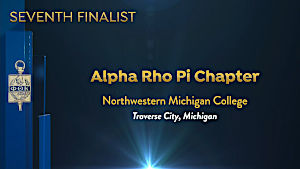 Despite a mostly virtual year, NMC's chapter of the international community college honor society had its best showing ever, ranking as one of the top 10 most distinguished chapters for the first time in its history.
"It was amazing. It was a sort of out of body experience," said chapter president Amber Marsh of the countdown at the PTK conference where the No. 7 rank was revealed.
On the heels of the rank, Marsh also learned that the NMC chapter's honors in action project, Deconstructing the Binary Complex in Racism, was selected to be published in Civic Scholar, PTK's journal of undergraduate research, this summer. She's thrilled that "the work that we became so passionate about" as the nation began to reckon with racial justice last summer will now reach a wider audience.
"You have a great chance to change minds," she said.
The classes of 2020 and 2021 will both graduate in a modified, COVID-compliant walk-through commencement ceremony on May 1.
Want more stories like this?
NMC students past and present are achieving success in the classroom and in their careers. This section showcases just a few examples.
Sign up for NMC Now to get these stories, plus upcoming campus events and media mentions, delivered to your inbox every other Wednesday. View past issues here »
Sign up now!
Tweet