Success Story: Park City peak performers
February 3, 2016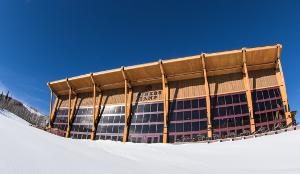 It's hard to top the commutes of Great Lakes Culinary Institute alumni Jared Pontius and Jeromy Stanley.
Executive chefs at on-mountain restaurants in Park City, Utah, both ride chairlifts and slopes to their kitchens each day.
"There isn't anybody on the mountain, and it's my time to relax before the busy day," said Stanley, 29, whose Summit House restaurant is located 9,400 feet and two chairlift rides up the Wasatch Mountains. Over the course of the day, he'll supervise 13 employees serving hundreds of skiers passing through the 300-seat restaurant.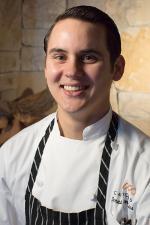 "Every employee has to ride down at least one run to the restaurant," said Pontius, 26, whose 400-seat Miners Camp restaurant is perched at 8,500 feet and keeps 12-15 cooks busy. Both restaurants are part of Park City Mountain Resort, the largest ski resort in the U.S., and host to many events in the 2002 Olympics.
Both chefs began their educations elsewhere. Pontius attended culinary school in his home state of Indiana and transferred to NMC and the Culinary Institute when his parents moved to Traverse City for jobs of their own. Stanley studied secondary education at Western Michigan University for two years before deciding he wanted a more hands-on career. At GLCI, he found small classes and personal attention from an outstanding faculty.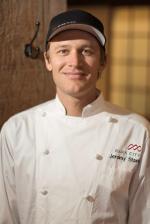 "You had their undivided attention every day," said Stanley, who graduated in 2011. "They taught me to effectively communicate amongst my peers, as a leader and in my everyday life."
Pontius, a 2010 graduate, said events like the annual Tasters Guild Auction, now called A Taste of Success and coming up Feb. 19, set GLCI apart for him.
The mountains were a big factor in the original westward pull for Stanley, who skied on the Traverse City West High School team before graduating in 2005. Pontius interned at a Park City town restaurant while at GLCI and returned when a mentor chef from the internship moved to the resort.
Working at an on-mountain restaurant also means none of the night shifts notorious in the culinary world.
"That is a huge advantage for me. I've done those night kitchens for years and that's not for me," Stanley said.
In the future, Pontius might return to Traverse City to open his own restaurant. In the meantime, the mountains – and that commute— will do just fine.
"I definitely fell in love with it when I first came out here. The mountains are a majestic place to live," Pontius said. "Sometimes that one run at the beginning and end of the day is perk enough."
Want more stories like this?
NMC students past and present are achieving success in the classroom and in their careers. This section showcases just a few examples.
Sign up for NMC Now to get these stories, plus upcoming campus events and media mentions, delivered to your inbox every other Wednesday. View past issues here »
Sign up now!
Tweet