Success Story: Fourth generation of Oleson family steps up to the plate
May 10, 2017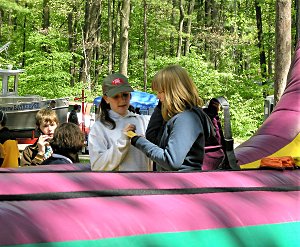 Samantha Oleson at the NMC Barbecue in 2007For many northern Michigan residents, the annual NMC Barbecue is a spring tradition. For Samantha Oleson, it goes back a lifetime.
The 22-year-old is part of the fourth generation of the Oleson family to carry on the fundraising picnic under the pines started in 1956 by her great-grandparents, Jerry and Frances Oleson.
This year she formally joined the Barbecue Board, the volunteer committee that spends several months planning the Barbecue, set for May 21 on NMC's main campus. But the Sunday before Memorial weekend has long been a dedicated date on her calendar.
"I've been volunteering since I was seven years old," Oleson said. She's never missed a single Barbecue, even during her college years at Western Michigan University. "I would bring my friends and volunteer. It wasn't something that I felt obligated to do, but I wanted to do."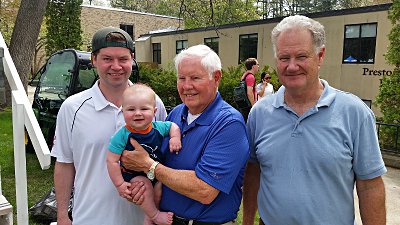 Mark, Frankie, Don and D.J. Oleson: Four generations enjoy the 2015 BarbecueA former dual-enrolled NMC student, Oleson is among a group of four cousins in the fourth generation of the family who now work in the Oleson's stores. They continue to donate all the food for the Barbecue, which drew 7,678 people in 2016. On May 21, they'll fan out for different day-of duties. Even fifth-generation Frankie Oleson, age 2 and a half, gets a job.
"He carried buckets," said dad Mark Oleson, Samantha's cousin. "He's excited."
They'll still squeeze in time to enjoy the meal themselves.
"We eat on the steps, right past the serving lines," Samantha Oleson said. "It's great to see people come, year and year again, and see how dedicated they are to the college and the Barbecue."
Besides the meal, the Barbecue includes classroom and program displays, free live music, a veteran's tent and an alumni tent. Separate ticketed activities include children's games and a cake walk.
Tickets are $6 in advance ($8 on Barbecue Day) and on sale now
online
and at Oleson's Food Stores. Visit
nmc.edu/bbq
for more information.
Want more stories like this?
NMC students past and present are achieving success in the classroom and in their careers. This section showcases just a few examples.
Sign up for NMC Now to get these stories, plus upcoming campus events and media mentions, delivered to your inbox every other Wednesday. View past issues here »
Sign up now!
Tweet