Success story: Early adoption leads to embrace of technology advances
April 12, 2023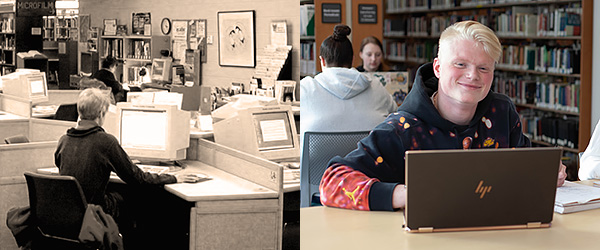 Back in 1998, philosophy instructor Michael Emerson was asked to join a small pilot group of NMC instructors trying something new: teaching online. A quarter-century later, Emerson now teaches all his classes online, nearly every NMC class has an online component, and the college's strategic plan prioritizes more online offerings as well as greater student success in them.
That pilot project was an early adoption of the technology that would change the world, and NMC has maintained its position at the forefront of educational technology.
"We made this decision and committed ourselves long before other institutions did it," Emerson said. "Now people are getting their masters and doctorates totally online."
He and the other NMC instructors embraced the challenge of trying something new. At the time, online classes meant totally asynchronous instruction conducted essentially by email. Lacking today's video capabilities, instructor and student were invisible to each other.
"I was initially kind of skeptical. The standard model was to be in the classroom," said Emerson. The pilot group used what he called a "primitive" Learning Management System, or LMS.
Through the 2000s, 2010s and through COVID-19, which made online education almost an expectation, NMC continued to stay on the leading edge of educational technology, Emerson said. The college has used multiple LMS systems. Moodle, the current provider, is the tool that is found in almost every class.
NMC now boasts an Educational Technologies department of eight. Courses are offered in four different formats: lecture, online, hybrid and livestream. Accelerated and short courses offer more convenience to students. NMC's strategic plan calls for increasing the proportion of online courses to 35% in fall and spring semester. Online enrollment is highest in summer semester, and will surpass 50 percent this summer.
Emerson sees many advantages of online education. Besides the flexibility and convenience it offers, students are more comfortable discussing the sensitive topics than can arise in his philosophy classes, he said. Participation can be leveled across the class, instead of being dominated by one or two people.
"The discussions have almost always been very very civil in the classroom, because there's a sense of permanence," he said. "All of us are more accountable in that regard, in terms of what we say."
He estimates teaching online saves thousands of pounds of paper, and, as COVID demonstrated, keeps him and his students healthier.
NMC's strategic plan also calls for improving already high rates of online class success through new teaching strategies. For online courses, the goal is 90 percent success/completion, up from 87 percent. The hybrid course goal is 95 percent, up from 92.
Not bad for what started as a pilot project.
"NMC was really at the very forefront of that, well before many traditional four-year schools," said Emerson.
Want more stories like this?
NMC students past and present are achieving success in the classroom and in their careers. This section showcases just a few examples.
Sign up for NMC Now to get these stories, plus upcoming campus events and media mentions, delivered to your inbox every other Wednesday. View past issues here.
Sign up now!
Tweet