Success Story: VisComm graduate Aaron Draplin designs a postage stamp
March 13, 2019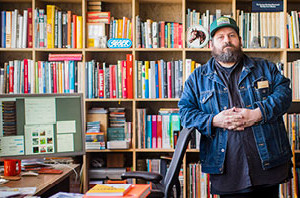 Postage stamps are barely a single square inch, but designing one that will be available next week ranks among the biggest moments in the career of NMC alumnus Aaron Draplin.
Draplin, a 1993 visual communications graduate who now runs Draplin Design Studio in Portland, Ore., is the designer of the Star Ribbon, a commemorative stamp the U.S. Postal Service will officially release on March 22.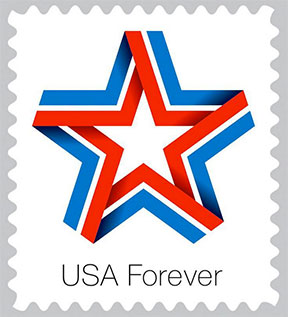 Draplin  said in a February Instagram post that "tears (were) rolling down my cheeks" when he was notified of his patriotically-themed design's selection. It is one of five first-class stamps to be released next week and will get the largest print run, "in the millions" according to Postal Service spokesman Roy Betts. It will be available in sheets of 20 and coils of 10,000.
Draplin said the universal availability of stamps is what appeals to him.
"Everyone needs a stamp. Everyone gets to enjoy the art on them. Too many times, art and design is only for those who can afford it. Stamps? They are a democratization of design. And that? That's my favorite kind of graphic design," he posted on Instagram.
Betts said the office receives 30,000–40,000 suggestions for stamp subjects each year. Suggestions are vetted to be sure they meet criteria — for instance, living subjects cannot be featured on stamps. The vetted list is then reviewed by the Citizens Stamp Advisory Committee, appointed by the U.S. Postmaster General.
"They see stamps as a way to tell America's story, not only here in the United States but throughout the world," Betts said.
The Postmaster General then makes the final selection. About 5,000 subjects have been featured on stamps since the U.S. Postal Service was founded in 1847.
"It's one of the nation's highest honors." Betts said. "The postal service is proud to tell America's story from a historical perspective."
Draplin's design firm has worked with clients ranging from Ford Motor Co. to the Obama administration. He grew up in Michigan and last returned to NMC in 2015, in conjunction with an exhibition at the Dennos Museum Center. He said the VisComm program offered him a taste of everything in the design world. "I learned how to take a photo, draw naked bodies, paint, build a portfolio, sculpt, draw in rigid perspective, write a paper, get lost in Roman architecture, and, design a logo in this new stuff called 'design software,'" Draplin said in an NMC newsletter. "I packed in so much. It took me a couple years to realize how much they unlocked in me. Everyone escapes their hometown. I did as soon as I could, but did it armed. Armed with a great foundation. And I'm thankful to NMC for that privilege."
Want more stories like this?
NMC students past and present are achieving success in the classroom and in their careers. This section showcases just a few examples.
Sign up for NMC Now to get these stories, plus upcoming campus events and media mentions, delivered to your inbox every other Wednesday. View past issues here »
Sign up now!
Tweet