Success story: Experiential learning, diversity combined in "Voices" project
February 9, 2022
Asked to name notable Black Americans, and a few relatively contemporary figures usually come to mind: Martin Luther King Jr., Barack Obama, Oprah Winfrey.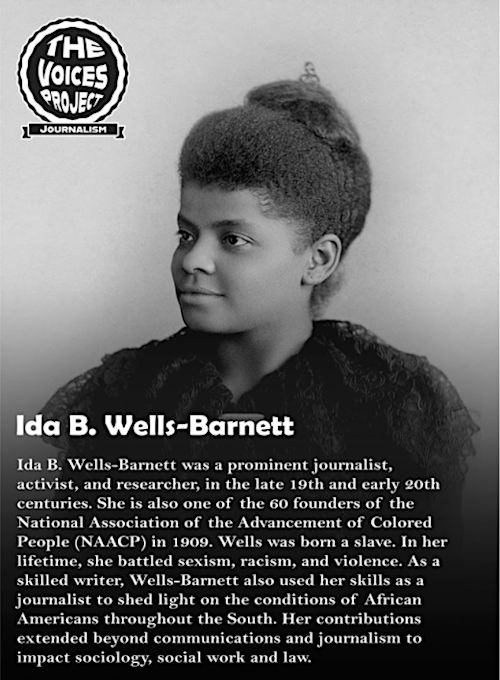 The Voices Project, a new experiential learning project in conjunction with NMC's Embrace the Dream Martin Luther King/Black History Month programming, aims to elevate the recognition of lesser-known individuals throughout history, like Capt. Hugh Mulzac, journalist Ida B. Wells-Barnett and nurse Mary Eliza Mahoney.
Taking place in campus hallways through the end of the month, the Voices Project is part open-access history lesson, part diversity and inclusion showcase and is aligned with the Diversity, Equity and Inclusion area of NMC Next, the college's new strategic plan. The poster-size portraits of Black Americans hang in the academic buildings corresponding to their subject's field – from the first Black registered nurse (Mahoney) to the first Black merchant marine naval officer to command an integrated crew during World War II (Mulzac) to journalist and NAACP co-founder (Wells-Barnett) who was born into slavery.
The posters were designed by Fine Arts student Gavin Bebb.
"I think there's a strong connection between art and social issues. I felt honored to be a part of the project and helping to bring awareness to others," said Bebb, 21, of Traverse City. "These are unsung individuals who really changed how we progress in our world today."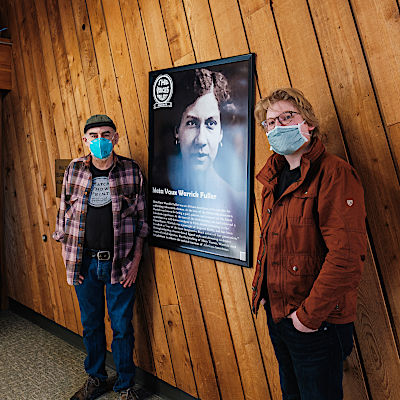 Fine arts instructor Glenn Wolff (right, with Bebb, far right) approached Bebb about the experiential learning project at the end of 2021. From a faculty-curated list of potential subjects, Wolff obtained images in the public domain or permission to use them. Bebb then created the Voices Project logo and edited the images into portraits, cropping, magnifying and manipulating small original files into the 30 x 40 posters.
"All the things I learned over the fall semester I put into these posters," he said.
Each also includes short biographical text researched by NMC faculty, and a QR code that a viewer can scan for the complete list of poster subjects.
"To me a desired outcome is that students, when they view the posters in their various areas at NMC, discover these Black contributors and are inspired to learn more about, and reflect on, the importance of their stories, and the reasons for their relative absence," Wolff said.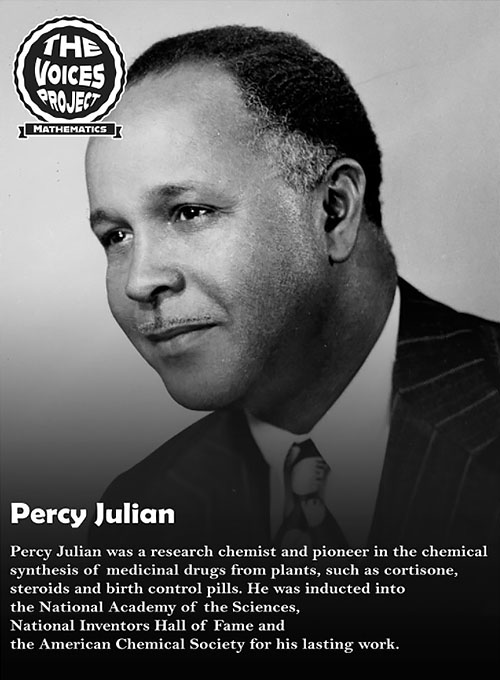 Wolff was able to obtain permission for 17 images. Other portrait subjects are research chemist Percy Julian, mathematician Gladys West and artist and illustrator Aaron Douglas. Wolff's drawing students are now working on sketches for another five subjects for whom permission could not be obtained.
"It's morphing into student artwork," he said.
The Voices Project posters will be on display at least through February. Wolff envisions it becoming an annual event.
Want more stories like this?
NMC students past and present are achieving success in the classroom and in their careers. This section showcases just a few examples.
Sign up for NMC Now to get these stories, plus upcoming campus events and media mentions, delivered to your inbox every other Wednesday. View past issues here »
Sign up now!
Tweet