Success Story: Industry gains from Maritime-Culinary partnership
May 23, 2018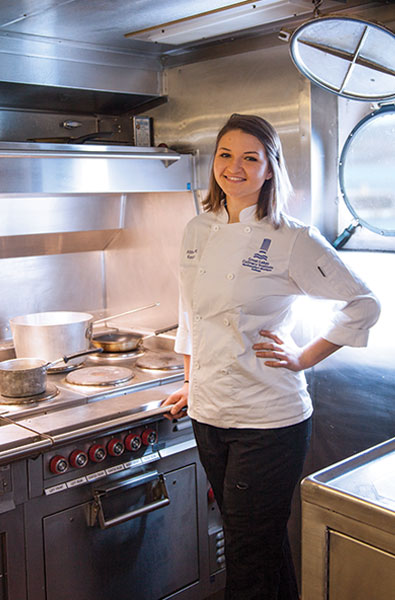 In just two years, a unique NMC programming partnership has turned three culinary interns into three highly paid cook-mariners, filling a critical need in the shipping industry and expanding opportunities for graduates.
Abbey Kasuske is the latest. The 2018 Great Lakes Culinary Institute graduate launches her career as a mess cook for ConocoPhillips' Polar Tankers fleet next week. She'll work aboard one of five vessels operating in the Trans-Alaskan Pipeline System, carrying crude oil from Valdez, Alaska, to ports along the West Coast and Hawaii.
Kasuske's route to her galley gig started as an intern aboard the T/S State of Michigan, cooking for Great Lakes Maritime Academy cadets fulfilling sea time requirements on their 2017 summer cruise. That was the second year of what one industry manager described as a "trailblazing" Culinary-Maritime collaboration, created by GLCI Director Fred Laughlin and GLMA Superintendent Jerry Achenbach.
That industry manager, for Crowley Maritime, the world's third-largest shipping company, hired both 2016 interns. (Read more about them here.) Meanwhile, the 2018 cruise departed last week with the first of three culinary students in the galley. (See a map and itinerary here.)
The position marries Kasuske's childhood with her passion and her education. In the marina, her favorite duty was running the companion deli. As a Petoskey High School student Kasuske, 21, enrolled in the culinary program at the Traverse Bay Area ISD's Career Tech Center, and then the GLCI in 2015. When she learned of the internship opportunity in the galley of the T/S State of Michigan, the training ship of NMC's Great Lakes Maritime Academy, all the pieces clicked together.
"It was a dream," she said. "When I stepped on this ship, I had this feeling come over me, 'this is home.'"
Only 15-25 people will be aboard her tanker, much smaller than the State of Michigan's 70-strong crew. But Kasuske will also have to work her way up. As an entry-level mess cook she'll do a lot of cleanup, dishes, stocking and storage. She can help the cook/bakers and chief steward — if granted permission.
"I'm definitely looking to make an impression," she said. "I want to be a cook-baker so bad."
She'll work about 70 days on and then 60 days off. She expects to make New Orleans her new home base after her boyfriend, whom she also met aboard the State of Michigan, graduates from the Texas Maritime Academy in December.
Wherever she sails, Kasuske will take the lessons she learned at the marina and at neighborhood potlucks in her hometown of Oden: Food nourishes more than the body.
"Food can be so powerful," she said.  "They come in, they're having a bad day, they take a bite of your food, and it makes their day."
We all did the BBQ


Thanks to the thousands of guests who attended Sunday's 63rd annual NMC Barbecue and the hundreds of volunteers who made it possible.
---
Want more stories like this?
NMC students past and present are achieving success in the classroom and in their careers. This section showcases just a few examples.
Sign up for NMC Now to get these stories, plus upcoming campus events and media mentions, delivered to your inbox every other Wednesday. View past issues here »
Sign up now!
Tweet