Success story: Award-winning student success services grow at NMC
November 10, 2022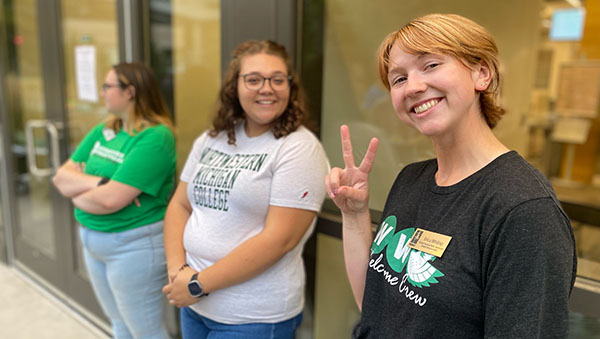 NMC's first full-time student success coach won a statewide award for her work Wednesday, while the college continues to beef up its ranks so more students can benefit from a coach's services as a campus point person, problem solver and resource.
Coaches function as an all-around go-to person for students, connecting them to campus services that they might not otherwise be aware of, such as study skills, time management and stress reduction. NMC coach Erica Whiting (pictured above) was named a winner of the 2022 Ombudsman award at Michigan's College Access Impact Awards. The award goes to someone who has a passion for college access and success, has persevered over challenges and made an impact in the lives of Michigan students.
Whiting's AmeriCorps-funded position allowed NMC to hire her as the first full-time student success coach in December 2020, after beginning coaching as a pilot project in 2015. Pilot results showed coached students received passing grades more and failing grades less. They also had lower rates of withdrawing from classes, which is key to retention and completing a degree. Increasing the number of students using coach services is an objective in NMC Next, NMC's strategic plan, slated for completion by 2025.
Results from Whiting's assigned cohort of East Hall residents –first-year students who are mostly first generation, Pell grant recipients or minority students– showed that students benefit from coach communications, even if they never meet together.
"Consistent communication, even without reciprocation, allowed students to know who their person is on campus," said Student Success Coordinator Sally Smarsty, who wrote the grant that brought Whiting to NMC through the Michigan College Access Network. "They know who to reach out to should they need something."
Whiting spoke the students' language, Smarsty said. Her texts or emails asking them to check in with her via an emoji, for instance, would garner 90 percent response rates.
"The students love her. She's absolutely wonderful," Smarsty said.
"Having my efforts recognized in this way is not only an incredible honor, but a reassurance that the work we do is meaningful," Whiting said.
Whiting joined a team of a half-dozen part time coaches. The coaching team now numbers eight including a second full-time coach. There is one vacancy, for a Native American student cohort coach, and the department is also recruiting to replace Whiting, whose two-year Americorps term will be up at the end of the month. Smarsty is eager to fill both. A full-time person like Whiting, who has the opportunity to focus on coaching, also benefits the rest of the part-time staff.
"Having this person full time who can focus and be there consistently has been really helpful," Smarsty said. "What (Whiting) has shown us, is that using that consistent communication, students know who their support is.
"That's been really good for our team."
Want more stories like this?
NMC students past and present are achieving success in the classroom and in their careers. This section showcases just a few examples.
Sign up for NMC Now to get these stories, plus upcoming campus events and media mentions, delivered to your inbox every other Wednesday. View past issues here.
Sign up now!
Tweet