Success story: GLCI thrives amid year of change
January 11, 2023
As the Great Lakes Culinary Institute prepares to resume its popular lunches at Lobdell's this semester, behind the scenes the program is making significant strides toward sustainability, as called for in NMC's strategic plan.
Developed over an 18-month re-imagination process, all changes are intended to increase GLCI's enrollment, improve financial performance and help students achieve success in the culinary/hospitality job market.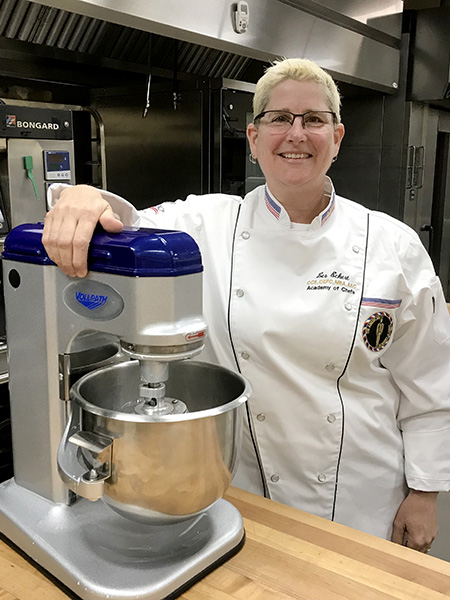 Of a watershed semester, GLCI Executive Director Chef Les Eckert (right) singled out a shortened course format as having the greatest impact on students. Nearly three quarters of GLCI classes are now held in eight-week sessions, instead of the traditional 16-week semester. The shorter session is easier for students to manage along with jobs and family commitments.
"That work-school-life balance is very important for our students," Eckert said. "Eight weeks seems a little easier to achieve."
Easier to achieve means students are less likely to drop out, thus persisting toward their goal.
"It's an easier way to stay on track for graduation," Eckert said.
While the session duration is shorter, class and lab periods are longer. That also offers a benefit.
"We want our students to be very well trained. Having more time in the lab, allowing them to get more time hands-on in skills and subjects is very important." Eckert said.
Starting classes four times a year instead of two also better accommodates hospitality industry workers seeking to upskill.
"It also helps workforce professionals come back," Eckert said. "If they can take a class in early winter, and late fall, they can handle that."
Cost reductions and new revenue streams: In addition to GLCI, NMC purchases food for the Hagerty Center and Hawk Owl Café on main campus. Working together, the three entities reduced food costs and waste and found two opportunities to create revenue:
Selling breads and pastries made in GLCI classes in the Hawk Owl Café
Creating an in-house butchery serving all three entities in a new class, Butchery and Fabrication, one of five new classes last semester.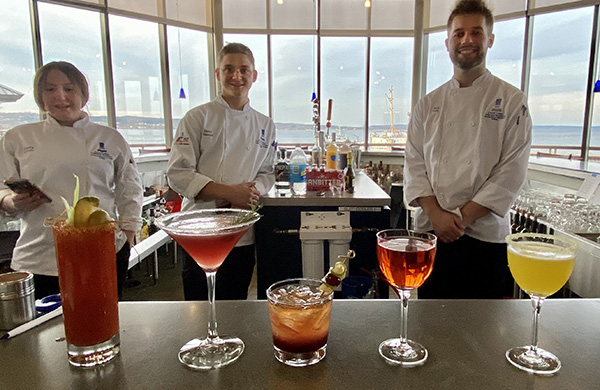 Maximizing the Lobdell's space: This semester, Lobdell's will offer lunch two days a week and tapas-style lunches and dinners on four select Thursdays. (Reservations open Jan. 23; lunches and dinners begin Feb. 8. Call (231) 995-3120 to make a reservation.) Last semester GLCI debuted six new public evening events. A charcuterie and cocktails happy hour offered on three Fridays was particularly successful and offered a unique service experience to students in a new Beverage Management class. It will be repeated in fall 2023.
Master classes: Another new revenue stream. After debuting three classes last fall, GLCI will offer three master classes in spring. Aimed at serious home chefs and workforce chefs looking for professional development, master classes meet in the GLCI kitchens, offering in-depth instruction in an intensive two- or three- day non-credit format.
Still coming:
A donor-funded consultant will examine and report on additional revenue opportunities, including more uses of the Lobdell's space, one of the very few Traverse City restaurants with direct West Grand Traverse Bay frontage.
A Taste of Success to go, April 28. Save the date, ticket information available soon.
Fall 2023: Culinary-maritime certificate
Want more stories like this?
NMC students past and present are achieving success in the classroom and in their careers. This section showcases just a few examples.
Sign up for NMC Now to get these stories, plus upcoming campus events and media mentions, delivered to your inbox every other Wednesday. View past issues here.
Sign up now!
Tweet