Success Story: Orchards, vineyards, fields and classrooms host innovative training
May 24, 2017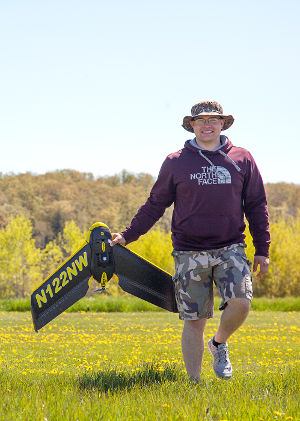 Brandon Krohn of Bad Axe was one of eight students to take part in uncrewed aerial systems in agriculture training at NMC's facility in Yuba.Future farmers from around the state converged in Traverse City this month for the culmination of a first-of-its-kind training in uncrewed aerial systems applications for agriculture.
Eight students co-enrolled in Michigan State University agriculture certificate programs and partner community colleges participated in a two-week training taught by NMC UAS instructors. Using four different drones, they conducted flights over a range of crops, collected aerial imagery and integrated sensor data, and then analyzed it for potential applications in the agriculture industry
It was the finale of an innovative, semester-long course that met in Muskegon, Traverse City and online and offered students elective MSU credit, remote pilot certification from the FAA, and a certificate in UAS in agriculture.
Currently, regulations limit most of the applications to imagery. Drones can't yet be used to spray or treat crops. But the students, who came from farms that raised everything from dairy and beef cattle to row crops like corn and wheat to specialty crops like asparagus and Christmas trees, said they learned plenty to take home.
"It'll be useful for counting trees, seeing which ones are ready for harvest," said Micah Woller of Montague, who works on a Christmas tree farm in winter.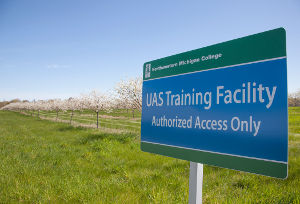 Nathan Beyerlein of Frankenmuth works for Star of the West Milling Co. in addition to his family's corn, sugar beet and cucumber farm. He foresees using aerial imaging as a scouting tool, using imaging data to make traditional crop protection — on-the-ground spraying and fertilizing — more effective.
"For crop health, and getting a visual of the whole field, being able to pinpoint where a disease is, or water damage," Beyerlein said.
Brian Matchett, coordinator of NMC's plant science and viticulture programs, which partners with MSU's Institute of Agriculture Technology, said he foresees huge demand for the training. This first course was only open to students enrolled in two-year MSU partner schools including NMC, Delta College, Muskegon Community College and Southwest Michigan Community College.
"We're just scratching the surface," Matchett said.
The course was taught in three parts: A five-day UAS build and flight training course in January at Muskegon Community College, a 12-week online training in remote piloting, and the two-week hands-on training in Traverse City earlier this month, at sites including apple and cherry orchards, vineyards, and hops, corn, soybeans and wheat fields.
Visit nmc.edu/uas for more information.
Want more stories like this?
NMC students past and present are achieving success in the classroom and in their careers. This section showcases just a few examples.
Sign up for NMC Now to get these stories, plus upcoming campus events and media mentions, delivered to your inbox every other Wednesday. View past issues here »
Sign up now!
Tweet