Success Story: Vaccination incentives bring relief to students
October 13, 2021
Two frontline adult learners got another boost toward their college goals last week — a semester's worth of tuition in NMC's Big Win giveaway.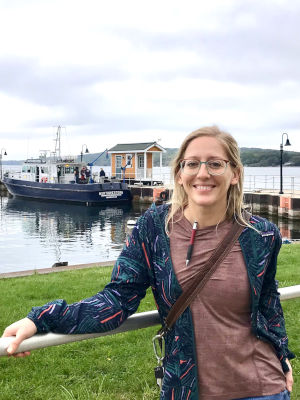 "This has been such a relief. I cried when I first found out," said Sarah Sergent, 37, of Traverse City (right), a first-year student in NMC's Marine Technology bachelor's degree program. She currently receives the Futures for Frontliners scholarship, which covers in-district tuition toward an associate degree. Since Marine Technology is a bachelor's degree, however, some of the classes she'll take next year won't qualify under Frontliners.
NMC awarded $30,000 in tuition, housing and bookstore gift certificates to students who submitted proof of COVID-19 vaccination as an incentive to do so. Throughout the pandemic, NMC has prioritized student and employee safety while minimizing the disruption to learning.  Students who were vaccinated by Sept. 30 were eligible to enter. More than 900 did.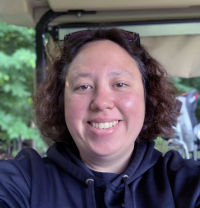 Kelley Nelson, 38, (left) a Computer Information Technology student from Bellaire, won the other tuition prize. Nelson also receives the Futures for Frontliners scholarship. She is taking livestream online classes due to her full-time job in the IT department at Boyne Highlands Resort. That option is the only way she could pursue a degree, and she's grateful NMC offers it.
"I'm just slowly chugging along," she said. "I love it. The teachers are great, everyone's super helpful."
With a particularly heavy load of 19 credits next semester Sergent's also excited that the vaccination prize will allow her to reduce her work hours as a recovery coach at the Traverse Health Clinic and focus on school and maintaining her 4.0 GPA.
"It's been a lot trying to juggle all this," she said, adding that she was very nervous about returning to school as an adult, but NMC's success coaching helped her tremendously.
"When I enrolled I was so scared," she said. "It changed to, 'I can do this.'"
In addition to the tuition winners, two students were awarded free housing for the spring semester (up to a $3,200 value each), five students received $500 gift certificates to the NMC bookstore, and ten students received $100 Amazon gift cards.
NMC is currently awarding the Michigan Reconnect scholarship, which provides in-district tuition to students over age 25 without a college degree.
Want more stories like this?
NMC students past and present are achieving success in the classroom and in their careers. This section showcases just a few examples.
Sign up for NMC Now to get these stories, plus upcoming campus events and media mentions, delivered to your inbox every other Wednesday. View past issues here »
Sign up now!
Tweet