Success Stories: Where are they now? Hawk Owl updates
February 21, 2018
Three years ago this month, the first issue of NMC Now debuted, sharing success stories of college students, faculty, staff, alumni, volunteers and more. On this anniversary, we update you on the new heights some of the most popular subjects have reached in their respective fields.
Kathy Tahtinen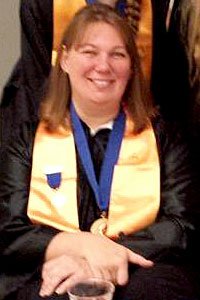 "Ten years ago I never would have thought that I would go to college, let alone my kids," said Tahtinen, featured in scholarships show excellence runs wide and deep a few months before her 2015 NMC graduation. Not only has she gone to college, she's now poised to earn her third degree: A master's in public administration from Central Michigan University at NMC's University Center. In 2016 she completed her bachelor's in business administration from Ferris State University.
Tahtinen hopes to take her education into the nonprofit world. She especially enjoys volunteer work, including for the NMC Foundation.
"I want to make a difference, I want to give back. I didn't come through the last 20 years alone," she said.
Meanwhile her eldest son, who attended NMC with her, has transferred to a school in Ohio. Her youngest graduated from high school last spring and she hopes he'll also attend NMC.
Study abroad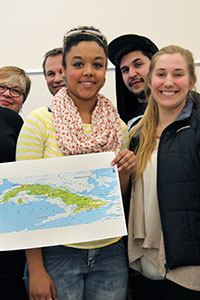 NMC still leads Michigan in short-term study abroad, a rank achieved in 2015. Last year it rose to number 12 in the nation among community colleges, and was also recognized as a Generation Study Abroad leader by the Institute of International Education for more than doubling student participation in study abroad experiences in three years. Studying abroad is a major way that NMC achieves its strategic direction of ensuring that learners are prepared for success in a global society and economy.
This year, more than 60 students will study in five countries: India, Italy, Ireland, Indonesia and Costa Rica. Between 2013 and this May, more than 330 NMC students and 30 faculty members will have participated in or led an academic study abroad experience to 17 different countries.
Leslie Farrer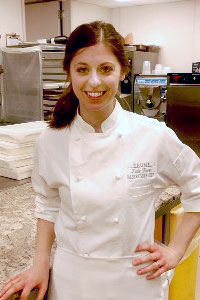 Back in 2015, Leslie Farrer was a pastry sous chef at Trump Hotel in Chicago and had helped Sixteen, one of the hotel's restaurants, earn a coveted Michelin star.
After two and a half years there Farrer called a career timeout coinciding with daughter Norah's birth in July 2017. Now the 2008 Great Lakes Culinary Institute graduate has kicked off 2018 with a new venture: operations manager for Aya Pastry, a new wholesale, soon-to-be retail Chicago bakery led by Aya Fukai. She's Farrer's former Sixteen colleague and is considered among the nation's best pastry chefs.
"It has been an exciting change for me that allows for a much healthier work-life balance," Farrer said.
Her move also exemplifies the rising stature of baking and pastry within the culinary world, which NMC addressed by adding a one-year bakery certificate last year. As part of the certificate, watch for Lobdell's Teaching Restaurant to open as a morning cafe operation this summer.
Mac Beeker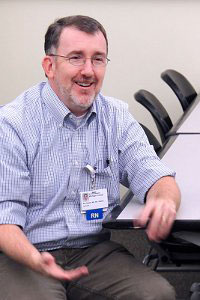 Three years into his career on the NMC nursing faculty, Beeker, also a 2010 alumnus, still holds the distinction as its sole male member. He's joined another illustrious group, too: NMC's Imogene Wise Faculty Excellence recipients, selected by students as the 2017 recipient for teaching excellence, innovation in the classroom, dedication and rapport with students. Exemplifying that rapport, Beeker keeps in touch with many of the students he's mentored, including Ryan Biehl, a 2016 graduate who just went on to become the first male nurse at his workplace, Farmington Elementary School in Culpeper County, Virginia.
Know a Hawk Owl with a noteworthy flight path? Share it with us by emailing publicrelations@nmc.edu.
Want more stories like this?
NMC students past and present are achieving success in the classroom and in their careers. This section showcases just a few examples.
Sign up for NMC Now to get these stories, plus upcoming campus events and media mentions, delivered to your inbox every other Wednesday. View past issues here »
Sign up now!
Tweet