Success Story: Five strategic areas to guide college's priorities
January 26, 2022
If a strategic plan is a roadmap, where will NMC Next take the college? Following unanimous approval by NMC's Board of Trustees Monday, imagine the impact on the Grand Traverse region: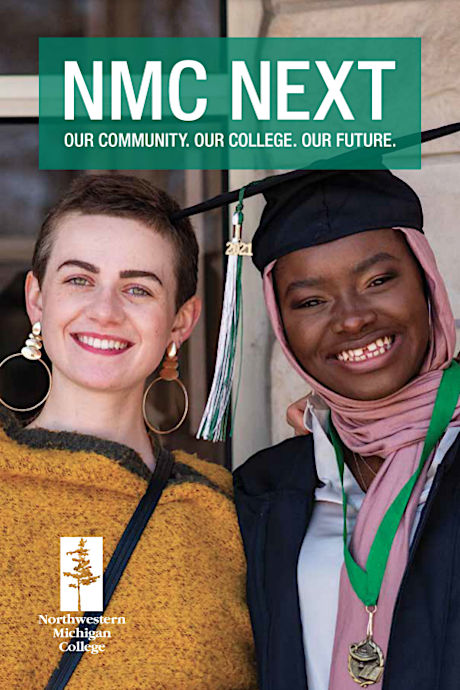 View/download the brochure »Residents who want to upskill or change careers are reaching their goals faster with accelerated programs, more online options and expanded credential choices. By engaging with hands-on, real-world problem solving, they're also having a richer experience and becoming independent, self-directed learners, skills they'll bring into the workforce.
In the most diverse era ever, the college is a model for diversity, equity and inclusion, exemplifying how other regional employers can attract talent and serve customers. Mutually beneficial partnerships, like the ones nursing enjoys with Munson Medical Center, and culinary with the region's hospitality industry, are visible on multiple campuses. Taxpayers will report even higher levels of satisfaction with "our community's college."
All of those are among the plan's 24 objectives and action items, which fall under five strategic goal areas:
Future-focused education
Student engagement and success
Diversity, equity and inclusion
Community partnership and engagement
Institutional distinction and sustainability
Progress will be measured and made available through trackers for each area at nmc.edu/strategic-plan.
The vote is the culmination of NMC's most comprehensive strategic planning process in decades, which began in February 2021 and drew input across all college constituencies. From community to students and trustees to faculty and staff, more than 1,000 participants provided input to the process, including answering surveys, participating in focus groups and feedback sessions and serving on the work team or steering committee.
"The voices and critical insights of the entire NMC community are central to the success of NMC Next, and I'm so gratified by how generously our many stakeholders have shared their time and talents," said NMC President Nick Nissley. "This data-driven plan positions us to meet the needs of the region, be a community college leader, yet also agile enough to adapt to changing conditions in higher education."
Want more stories like this?
NMC students past and present are achieving success in the classroom and in their careers. This section showcases just a few examples.
Sign up for NMC Now to get these stories, plus upcoming campus events and media mentions, delivered to your inbox every other Wednesday. View past issues here »
Sign up now!
Tweet