Success Story: Retooled Career Fair debuts
March 4, 2020
More than a year's worth of efforts to ramp up student employment readiness and meet area employer needs will debut at a retooled Career Fair Thursday.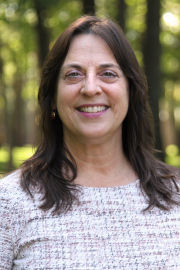 It's the first fair since Employment Readiness Specialist Lisa Baldyga (right) joined NMC's Academic and Career Advising Center last fall. Her addition to the advising staff — and her shared employment status with Michigan Works — was an intentional step to enable NMC to offer more comprehensive career preparation services.
"We are here to serve our community, not just community members but employers," said director of advising Lindsey Dickinson. "Part of that is helping students become employed after they're finished with us."
Baldyga, who had five years of connections and contact with regional employers through Michigan Works, was the ideal person to take employment readiness to the next level, Dickinson said. Her work is on top of college-wide efforts to ensure students have the skills and credentials they need to become employed.
In her first semester Baldyga conducted more than 150 mock interviews with students, helping to prepare them for the real thing, which is expected to occur on-site Thursday, when more than 80 employers gather. For students with limited work experience, she also helps them translate skills learned in the classroom, such as time management or communication, onto a resume.
"It's the soft skills the employer is looking for. They're looking for that you're going to work well in their work culture, that you're going to be polite, prompt and on time," Baldyga said.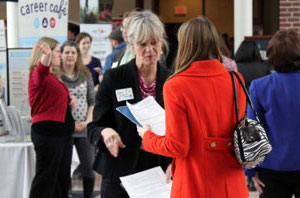 Other changes to the 14th annual fair, to be held at the Hagerty Center on NMC's Great Lakes campus from 3-6 p.m., are aimed at benefiting employers:
It combines multiple separate events: Jobs for Vets, a Technology Career Fair, and a general fair, to offer the convenience of a one-stop shop. Veterans will be admitted early, at 2 p.m., but general fair hours have been doubled, from 90 minutes to three hours, to allow more time for employers and job seekers to engage.
Extensive pre-fair student preparation. In the last two weeks Baldyga's held three resume workshops and a first-of-its-kind network night. Held Monday at the Dennos Museum, students rotated through stations where they practiced basics like interview-appropriate body language and eye contact, attire and tie-tying, and dining etiquette for interviews conducted over meals.
Also new at the fair: Students can get professional photos taken to use on a LinkedIn account. Baldyga, NMC advisers and student success coaches will staff an on-site resource room where students can get pep talks, print resumes or practice pitches before approaching an employer.
The fair is open to community members as well as students.
"Everybody we're putting together is hiring right now," Baldyga said.
Want more stories like this?
NMC students past and present are achieving success in the classroom and in their careers. This section showcases just a few examples.
Sign up for NMC Now to get these stories, plus upcoming campus events and media mentions, delivered to your inbox every other Wednesday. View past issues here »
Sign up now!
Tweet