Success Story: College-Long Lake community partnership
March 22, 2017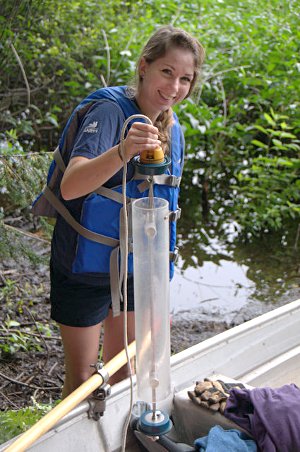 Later this spring, NMC students will begin working to insure that one of Grand Traverse County's most popular inland lakes continues its long legacy as a clear, clean, recreational and residential oasis.
Great Lakes Water Studies Institute interns will conduct a water quality study of Long Lake as part of the second year of a partnership with the Long Lake Association, Foundation, Township and the Great Lakes Environmental Center.
"Everybody's excited about it," said Rick Kiehle, president of the Association.  "I'm so happy to be working with NMC. It's just a really good thing to bring the community together."
Last year, WSI interns Jessica Rhodes (left) and Chelsea Cooper studied adjacent, uninhabited Page and Fern lakes, collecting baseline data with GLEC oversight. In 2017, with Long Lake due for the triennial study that GLEC has conducted since 1997, the paid interns will handle the sampling on Grand Traverse County's largest inland lake.
"We still have our hand in the scientific part of it, but we allow students to get the real world-training," said GLEC research scientist Pat McCool.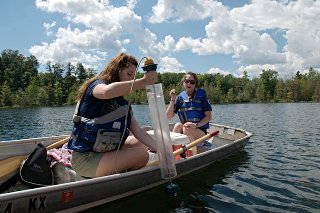 Water Studies Institute interns Chelsea Cooper and Jessica RhodesThe results will be of keen interest to the 800 property owners who live on Long Lake, Kiehle said. From invasive species like Eurasian milfoil choking boat propellers to pollution from lawn chemicals to swimmer's itch, vigiliant stewardship is essential.
"You just have to keep up on this stuff," said Kiehle, who helped pull together the multi-entity partnership to study Page and Fern. "Tell if there's any potential pollution or bad stuff getting in the lake."
Over the years, McCool said Long Lake has been "consistent and stable" in its water quality. Rhodes and Cooper's 2016 study showed that Page and Fern's water quality is relatively good, too. That data can now serve to benchmark the impact of any development, like improved trails or parking lots, at the Timbers Recreation Area that encompasses both lakes.
"We want to understand what's going into the lake. What's the cause and effect of what we're doing?" Kiehle said.
This year's interns – Cooper will be back, plus one or two more – will have use of new tool, too: a handheld sonde (probe) upgrade, purchased with funds from the NMC Barbecue. The device allows users to leave laptops shoreside and still be sure the data is being collected properly.
Constanza Hazelwood, WSI education and outreach coordinator, said the Long Lake area studies are providing students valuable work experience. Earlier this month she attended the annual Shorelines & Shallows conference at Michigan State University. Demand for work like what's being done with Long Lake exists statewide, she said.
"There are so many lakes that are looking for this kind of work to be done regularly," she said.
Want more stories like this?
NMC students past and present are achieving success in the classroom and in their careers. This section showcases just a few examples.
Sign up for NMC Now to get these stories, plus upcoming campus events and media mentions, delivered to your inbox every other Wednesday. View past issues here »
Sign up now!
Tweet