Success Story: Condensed format, new vehicles and equipment on the radar
May 25, 2022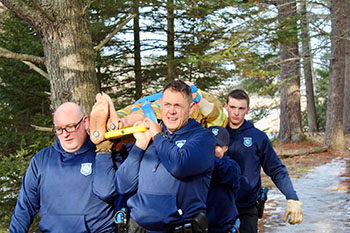 After three straight years of a 100-percent state exam pass rate and employment rate, NMC's Police Academy program is planning big changes that will allow it to double enrollment and help fill a shortage of police and law enforcement officers statewide.
A new structure for the Police Academy slated to start in the fall of 2023 means that instead of turning out one graduating class per academic year, NMC will have one in the fall and one in the spring. Students will receive the same training by attending full time for 16 weeks, instead of part-time as they do now for the nine-month academic year.
Both students and police agencies favor the switch, Police Academy Director Gail Kurowski said. The 11 members of the Police Academy class of 2022 have all been hired (graduate Matt Morgan, above, is headed to the Michigan State Police), and police departments and sheriff's offices around northern Michigan are eager for more graduates.
"They are really excited to see us make this change," Kurowski said. "They are desperately in need of law enforcement personnel."
Of the 20 police academies in Michigan overseen by the Michigan Commission on Law Enforcement Standards, NMC is among only a handful that still operate on academic year calendars, Kurowski said. She's currently recruiting for the 2022–23 year, and has had to turn away almost as many students as she's enrolled because they preferred the consolidated, shorter program. Increasing the number of credentials earned faster is also an objective within the Future-Focused Education area in NMC Next, the college's strategic plan.
"It doesn't work any more," Kurowski said of the two-semester schedule. "There's no doubt in my mind that we're going to increase enrollment."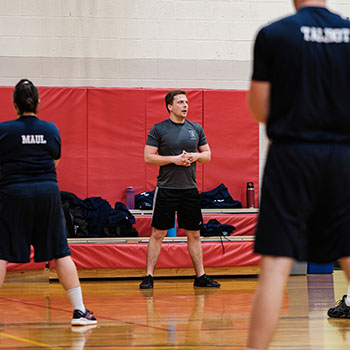 Police Academy students will be learning on significantly upgraded equipment, too. Earlier this month, the Grand Traverse County Commission approved donating two used sheriff's department patrol vehicles to the NMC program. Kurowski said she has a verbal commitment for a used Traverse City Police Department vehicle, too.
The vehicles will be outfitted with equipment donated by the Michigan State Police, including mounted display consoles for computers inside. The current 2005 vehicles NMC now uses lack any kind of police equipment.
"Our students have never gotten to turn on a siren or a light bar," Kurowski said. "That's going to be a huge improvement." She expects the vehicles to be available for the 2022–23 school year.
NMC's Aviation program and Marine Technology bachelor's degree program also boast 100 percent employment among their graduates. The Great Lakes Maritime Academy expects all 2022 graduates to be employed within six months of graduation.
Want more stories like this?
NMC students past and present are achieving success in the classroom and in their careers. This section showcases just a few examples.
Sign up for NMC Now to get these stories, plus upcoming campus events and media mentions, delivered to your inbox every other Wednesday. View past issues here.
Sign up now!
Tweet