Success Story: College committed to veteran students
November 10, 2021
As a member of the U.S. Navy's Strike Fighter Squadron (VFA) 213, John Monaghan always knew his mission.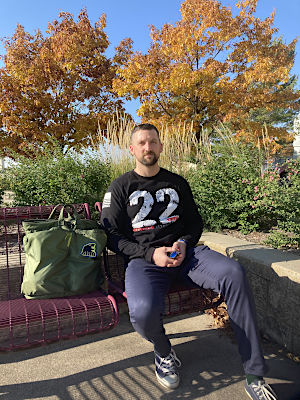 Now as a student veteran in NMC's Engineering Technology program, Monaghan applies the drive and focus he learned in his 12-year military career to his studies.
"When you come out of the service, you already have discipline. You're already focused on a job that needs to get done," said Monaghan, who deployed to the Persian Gulf several times between 2004–2016 as an aviation electronics technician.
"I always had an interest in how things worked, how things moved," said Monaghan, 35.
He had tried college prior to NMC, exploring criminal justice and general studies at both a community college and two four-year universities. But it wasn't until NMC, where he started in January, that he found the academic environment to suit his personal aptitude.
"NMC was the best choice at the best time," said Monaghan, who expects to graduate in December 2022. He's a member of Phi Theta Kappa, the international community college honor society, and plans to run for office in the Student Government Association.
Serving those who have served is a year-round priority for NMC. About five percent of students are either veterans or active-duty military. NMC has many services designed for veteran student success, including five veteran-specific scholarships and opportunities to convert military service to academic credit (Maritime, Law Enforcement). Find out more at nmc.edu/veterans.
On Thursday, the college will also host its annual Veterans Day flag ceremony at 9:30 a.m. Thursday at the main campus flagpoles, located between the Biederman and Osterlin buildings. The ceremony includes remarks from NMC Trustee Doug Bishop and student veteran Brandon Williams. Traverse City VFW Post 2780 Honor Guard will present the colors and conduct the Three Volleys/Taps. The Traverse City Central High School marching band will play the national anthem.
People can attend in-person or via livestream: nmc.zoom.us/j/99338087545.
Want more stories like this?
NMC students past and present are achieving success in the classroom and in their careers. This section showcases just a few examples.
Sign up for NMC Now to get these stories, plus upcoming campus events and media mentions, delivered to your inbox every other Wednesday. View past issues here »
Sign up now!
Tweet