Success story: Students fit in classes any which way they can
March 16, 2016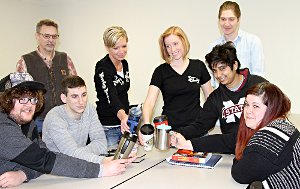 Credits in early childhood development were all that stood between Karin Cooney and advancement to the director position at Traverse City's Angel Care child care. Yet Cooney needed to be at work Monday through Friday.
NMC's child development program solved her conundrum. The classes are nearly all scheduled in hybrid formats, meaning limited face-to-face sessions, most offered evenings or Saturdays, with required online work in between. This semester she's taking Human Growth and Development, which meets five Saturdays a semester. It's been ideal.
"The class makes it seem like you're a part of something, but I have the flexibility to do the coursework when I have the time," Cooney said. (Above, students in a Saturday morning English class.)
Registration for the fall semester begins today, and students will see more courses are being offered in hybrid formats, also known as blended, which combine the benefits of face-to-face classes with the convenience of online.
Last fall, nearly 17 percent of NMC courses were offered in either online-only or hybrid formats. Such courses also mean fewer commutes, saving students time and money. Kalkaska resident Amber Marsh, 35, is enrolled in a hybrid English course that meets Thursdays, and an in-person class that meets Tuesdays and Thursdays.
"I am reluctant to take a course that mandates three drives into town," Marsh said. But she added that some in-person is important. "I am leery to take an all-online class, as I have had such great success with the hybrid/face to face interaction."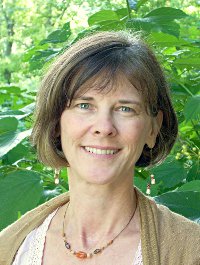 Social Sciences instructor Cheryl Bloomquist said converting what was originally an entirely face-to-face course improved the delivery. Originally the Human Growth and Development course was offered seven Saturdays from 8 a.m. to 4:30 p.m. The intensity left students brain dead by 2:30, she said.
In 2011 she converted the course, which now meets from 9 a.m. to 3 p.m. five Saturdays, with additional content online.
"This hybrid combination is so much better in terms of piecing the information out," Bloomquist said.
Time management in hybrid courses isn't always easy for students, Bloomquist acknowledged. Last semester, she experimented with ending her face-to-face sessions in a computer lab so students could begin the online work with her available as a resource.
"That was really quite successful," she said. "When they leave class, they've started their work."
Cooney has been so impressed with the child development program that she's contemplating requiring certain courses for her staff of 15, who care for 50 children.
"I'm willing to juggle my employees, so they can get the knowledge," she said. "It only helps us."
​Learning Lab allows students to get up to college speed
Saving current and prospective students time and money is the goal of a new on-campus learning lab.
Aimed at students without a GED or high school diploma, or students who don't place into credit-bearing courses, the learning lab is open Monday,Wednesday and Thursdays from 5:30 to 7:30 p.m. in Scholars Hall 209 . The free services include instruction from a Michigan certified adult education teacher in any discipline, from English to math to social studies. Educational plans are individualized to the student's needs and students can register at any time of the year.
A joint effort between NMC and Northwest Michigan Works, the lab seeks to help several populations:
Students who don't test into developmental math and English classes
Students who place into those courses but don't need a 16-week class
Students interested in brushing up before a semester begins
Students in the first two groups often get frustrated paying for a course that doesn't offer credit. Students in the last group often don't realize the constraints of an academic calendar. The lab allows them to engage in academics even if the next semester doesn't start for months.
"There are students who are getting discouraged," said instructor Katie Polus. "We're going to try and be that stepping stone."
- Interested? Contact Polus at 231-922-6915 or KathrynPolus@networksnorthwest.org to make an intial appointment.

---
Want more stories like this?
NMC students past and present are achieving success in the classroom and in their careers. This section showcases just a few examples.
Sign up for NMC Now to get these stories, plus upcoming campus events and media mentions, delivered to your inbox every other Wednesday. View past issues here »
Sign up now!
Tweet