Success Story: BBQ supports West Hall, Commitment scholarships
May 15, 2019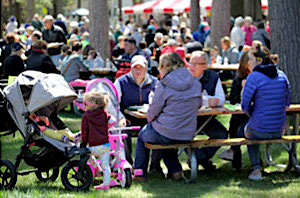 Patrons enjoying the traditional buffalo burger and kids games might also notice a giant crane and the steel beamed-frame of a rising second story on the Timothy J. Nelson Innovation Center at the annual NMC Barbecue this Sunday.
Begun last fall, the West Hall renovation and the Commitment scholarship for promising, mostly first-generation college students are the beneficiaries of funds from this year's 64th annual picnic under the pines, set for 11 a.m. to 5 p.m. Sunday on main campus.
"The NMC Barbecue has a long and proud history of investing in the future of our region, whether it's through the students themselves, or by creating the learning spaces they need to succeed," said Barbecue Board President Heather Jewell. "It's exciting to know a $6 picnic meal can have such an incredible impact when we all join together to support our college."
Originally a residence hall, the Timothy J. Nelson Innovation Center is set to reopen next spring as a 54,000-square-foot, multi-story library and flexible learning space accommodating a range of learning styles and needs, including experiential and simulation. Since 1993, the Commitment scholarship has offered full-tuition scholarships to 1,500 students from all around the region, positioning them to transfer and complete a bachelor's degree.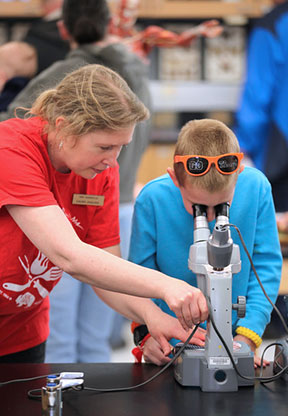 The Barbecue traditions of free live entertainment, classroom displays and program exhibits, and free admission to the Dennos Museum Center will all return. New at the Barbecue is the first annual printmaking sale, set for 11 a.m.-5 p.m. in the Fine Arts Building. Patrons can take home a student print for as little as $3. See the complete list of activities and events.
In addition to supporting college programs and equipment — to the tune of $1.8 million since the late Gerald W. Oleson and his wife Frances, founders of Oleson's Food Stores, started it in 1956 — the Barbecue is a place where community connections flourish. More than 500 volunteers put on the Barbecue. Additional volunteers are still welcome, especially in the following areas. Sign up online.
Kids Games - 3–5 p.m.
Recycling Champions - 2–5 p.m.
Hot Dog Cookers - 2–4 p.m.
Buffalo Wranglers - 3–5 p.m.
Serving line (this job is for community groups) - 2–5 p.m.
Tickets are $6 in advance and can be purchased at Oleson's Food Stores, the Traverse City Area Chamber of Commerce, the NMC Foundation, and many financial institutions. Tickets are available for $6 plus a $1.25 service charge on MyNorth Tickets. Tickets are $8 on Sunday.
Want more stories like this?
NMC students past and present are achieving success in the classroom and in their careers. This section showcases just a few examples.
Sign up for NMC Now to get these stories, plus upcoming campus events and media mentions, delivered to your inbox every other Wednesday. View past issues here »
Sign up now!
Tweet