Success Story: Making a semi-truck size dent in food insecurity
November 13, 2018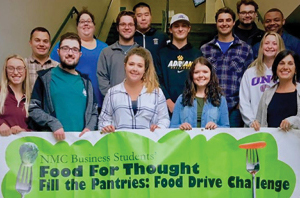 The spirit of Thanksgiving and the holidays is extending out from campus to the community, with several charitable projects now underway. There's still time to pay it forward with a donation of food or a warm jacket, and mark your calendar to enjoy a free family day at the Dennos Museum Center Nov. 23.
Student Blake Bandrowski, marketing director for NMC Professional Communications students' sixth annual Food for Thought food drive, said students will take a wallet full of $5,500 in donations on a mega grocery shopping trip this weekend, aiming to fill up a semi-truck before Monday's distribution.
"On Sunday we will be spending all the money we got through donations," Bandrowski said.
Since mid-October, students have also collected food on campus and at special events. This year's drive benefits four pantries that help students and their families. A 2016 Northwest Food Coalition survey revealed more than 2,000 children in the region are food insecure, which can be a barrier to learning.
The food drive is an experiential learning project that enables students to help the community by practicing professional communications skills -- like soliciting donations.
"That's the great thing about the class. Not only are you helping people, but you're learning the skills by actually using it," Bandrowski said. "It is legitimate work experience."
Through Monday, community members can donate non-perishable food and personal hygiene items at red collection bins in the Tanis Building and Osterlin Library on main campus; University Center; Hagerty Conference Center and Parsons-Stulen on Aero Park campus. More info »
In addition to the food drive:
NMC's Bookstore is leading the third annual Hoodies for the Homeless through November 21. Donate new or gently used outerwear — hoodies, coats, snow pants all welcome — at the bookstore, now located in the Health & Science Building, and get a coupon for 30 percent off one regular priced apparel item. All items donated will go to the Goodwill Street Outreach program for distribution to people in need.
NMC Student Life and Learning Services are teaming up with student leaders to offer Stocking Stuffers to students, a successor to the former Giving Tree program, which offered holiday gifts to students for seven years. In the new program, students will fill out a short application requesting extra assistance to shop for their children/dependents this holiday season. Approved students may choose gift cards from Meijer, Target, Kohl's or Books-a-Million. Donations to the program are sought by Dec. 3 and can be made online.
The Dennos Museum will open its doors to the community with free admission on Friday, Nov. 23. Museum hours are 10 a.m.–5 p.m.
Want more stories like this?
NMC students past and present are achieving success in the classroom and in their careers. This section showcases just a few examples.
Sign up for NMC Now to get these stories, plus upcoming campus events and media mentions, delivered to your inbox every other Wednesday. View past issues here »
Sign up now!
Tweet