Success Story: New course culminates in Startup Week
October 27, 2021
After helping students to incubate two viable companies, technical area instructor Keith Kelly is seeking to build on that success by making 2022 the year that startups take a giant leap forward at NMC.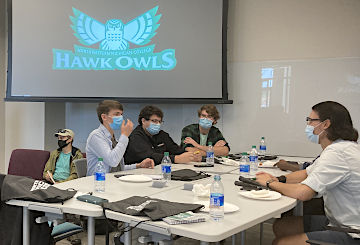 Students discuss ideas for startups at a Startup Week informational session in October.He's leading the college's participation in Northern Michigan Startup Week in May 2022. It's a regionwide endeavor to teach and promote entrepreneurship, showcase local talent and develop a culture of entrepreneurship, including among high school and college students.
"We want to bring more students into the startup community," said Kelly. By doing so, students practice experiential learning, an impactful and engaging learning style that NMC is embracing collegewide.
Startup Week will also connect students with the entrepreneurial culture growing in the greater Grand Traverse area. Kelly himself is an example of that. He's also a program manager at 20Fathoms, a support organization for regional entrepreneurs and another Startup Week presenter.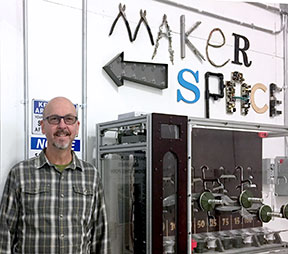 "Innovation doesn't just happen," said Kelly, left. To that end, he's now recruiting students for Startup Seminar, a for-credit spring semester course that begins in January. About a dozen students attended the first information session earlier this month. A second is set for 1 p.m. Nov. 19 in Osterlin 203. Kelly's hoping to enroll enough students to fill out five startup teams, which will each develop an idea into a marketable product or service. The course culminates with Startup Week, and a pitch competition to win a top prize of $1,500.
Startup Seminar is the next generation of a course called Design Principles that Kelly's taught for several years. Now-thriving local robotics companies Interactive Aerial and Hybrid Robotics both started up in that course.
Students do not have to be enrolled in the course to participate in Startup Week, nor is participation in the week limited to students. Besides the pitch competition, the week's other events include Space Night at the Hagerty Center, a "Funding Innovation" lunch, a Startup Expo at 20Fathoms and a showcase of startups from Michigan universities. The Timothy J. Nelson Innovation Center will also host the final event, TechStars, which condenses the idea of Startup Seminar to a weekend.
Startup Week will be promoted at the TC New Tech Pitch Night Nov. 2. Pitch Night is a monthly competition for entrepreneurs to win seed funding and investor attention. Hybrid Robotics won it in 2018.
Whether their idea wins or loses in May, however, it's the startup experience, from idea conception to team formation, from the build-out to overcoming obstacles, that will benefit students down the road.
"NMC is innovating around learning," Kelly said.
Want more stories like this?
NMC students past and present are achieving success in the classroom and in their careers. This section showcases just a few examples.
Sign up for NMC Now to get these stories, plus upcoming campus events and media mentions, delivered to your inbox every other Wednesday. View past issues here »
Sign up now!
Tweet