Success story: Hawk Owls soaring
September 11, 2019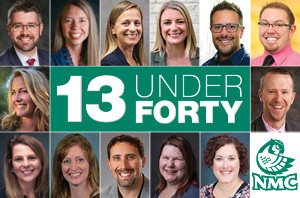 One-third of the region's 40 under 40 winners have something in common beyond being young professionals who positively influence their community — they've attended classes at NMC.
Thirteen of the region's 40 most influential leaders under age 40, as named by the Traverse City Business News this month, attended or graduated from NMC.
Illustrating the breadth of programs NMC offers, they work in a wide range of fields including banking and financial services, restaurants and hospitality, nonprofits, real estate, education, health care, government, and tourism. They are:
Max Anderson, assistant vice president, Honor Bank;
Andrea Deibler, co-owner, Raduno;
Lindsey Dickinson, director of academic and career advising, NMC;
Ashley Halladay-Schmandt, clinical manager, Northwest Michigan Community Action Agency;
Brandon Hunt, president, Mid-American Title;
Nicholus Kopacki, site director, GVSU Physician Assistant Studies program;
Courtney Lorenz, founder, Cultured Kombucha;
Ben Marentette, city clerk, City of Traverse Clerk;
Katy McCain, manager, Traverse City Tourism;
Julie Moore, Physician Assistant, Addiction Treatment Services;
Christopher Radu, partner, Elemint Wealth Management;
Amy Shamroe, Jenkins Group and elected city commissioner;
Nicole VanNess, parking director, Traverse City DDA.
Their resumes point to the value of NMC in the community. Through NMC's University Center, Traverse City city clerk Ben Marentette earned both his bachelor's and MBA degrees.
"You get a lot for your money. NMC allowed me to build a career without having to leave the city," Marentette said.
Other list highlights:
Seven of NMC-connected are also repeat winners: Anderson, Halladay, Hunt, Lorenz, Marentette, McCain and Shamroe.
The eight women and five men among the NMC-connected is similar to the gender balance among the entire 40 over 40 list (22 women and 18 men.) NMC's enrollment, however, is nearly 50-50 male-female.
Want more stories like this?
NMC students past and present are achieving success in the classroom and in their careers. This section showcases just a few examples.
Sign up for NMC Now to get these stories, plus upcoming campus events and media mentions, delivered to your inbox every other Wednesday. View past issues here »
Sign up now!
Tweet