Success story: Math instructor Steve Drake is first at NMC to mark 50 years
June 2, 2021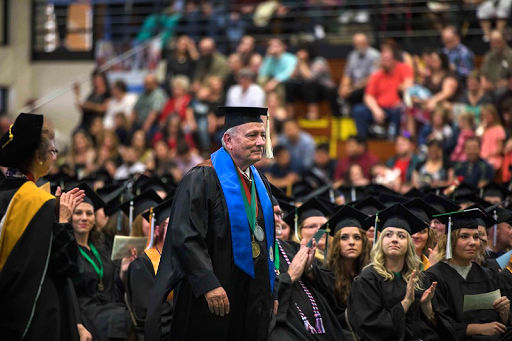 Back in 1971, Steve Drake picked NMC from half a dozen job offers, mostly at community colleges.
He and his wife, Carolyn Drake, were sold on the college's high regard and respect for teaching. While he could have earned a higher salary elsewhere, NMC's teaching culture was far and away the best that Drake, a mathematics instructor, observed on his interviews.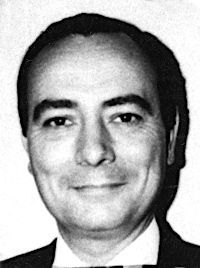 Steve Drake in the 1970s"I could work here and enjoy myself," among the professional, engaged faculty, recalled Drake, who came to Traverse City with seven years of teaching experience, the recipient of three National Science Foundation grants, holder of an FBI security clearance, and a newborn.
Half a century later, as the first NMC faculty member to attain the 50-year teaching milestone, with a few more NSF grants under his belt and now a grandfather, he knows he made the right choice.
"I really, really have enjoyed working at NMC," said Drake, a two-time winner of NMC's Imogene Wise Faculty Excellence award, for which he was nominated by students. "If you don't enjoy what you do, you're just going to try to retire at the first opportunity."
Turning 79 this month, Drake has yet to be tempted. Part of what keeps him engaged is that he takes every opportunity to be a student himself. Back in the 1980s, building on his master's degree in nuclear physics (which necessitated his first FBI clearance) Drake got another NSF grant to go to the Argonne National Laboratory and Fermilab near Chicago. He studied reactor development and nuclear designs and also worked with early versions of supercomputers.
"I've always had a philosophy that you have to keep learning or you can't do your job," Drake said. "Being familiar with these things has helped me teach mathematics. Mathematics is an abstract concept that has to be utilized for purpose before you appreciate it."
As an example, he recalled two students who married and transferred to the University of Michigan to study chemical engineering. Both went on to work for Dow Chemical, the husband in administration, the wife in research. She would be awarded nine patents in her career.
"NMC students have always done well in the transfer program. We built a strong reputation with the universities," Drake said. Initiating a partnership with Michigan Technological University in the 1980s was another highlight of his career.
"We had faculty-to-faculty up there (at Michigan Tech), working and talking things out, figuring out what we needed to do to get students up there and be successful," he said. (Jerry Dobek has taken over the NMC-MTU partnership, which most recently has led to a new engineering partnership.)
Drake is also both a disciple and evangelist of the "document your thinking" style of mathematics instruction. In other words, he's not interested merely in students arriving at the right answer, but in understanding how problem solving processes allows one to arrive at the right answer.
"My teaching is always focused on not only being able to do mathematics, but to communicate with mathematics," he said. In visits with former students working locally, he said the most successful always had the habit of keeping logs or other documentation of their work.
An Iowa native, Drake taught for several years at the high school level prior to NMC. His classroom experience has been as varied as a now-closed Missouri psychiatric hospital, similar to the Traverse City State Hospital, to a military base in the Philippine Islands. His own education was completed at Northwest Missouri State, the University of Wyoming, Kansas State and the University of Michigan, his last stop before NMC.
Retirement is still not on the horizon for Drake, who said his career flourished only because of his family's support (his two children, Eric and Rachelle, both attended NMC before going on to universities) and the talent and creativity of colleagues, inside and outside of academia. He's planning a year at a time, and will be teaching again in the 2021-22 academic year.
"I kind of hope I get back in the classroom, though I've learned to be pretty effective with livestream," he said of his preferred COVID course delivery method.
In fact, at 50 years of tenure, Drake has even outlasted some former students.
"Most of my former students that became faculty have retired," he said.
Want more stories like this?
NMC students past and present are achieving success in the classroom and in their careers. This section showcases just a few examples.
Sign up for NMC Now to get these stories, plus upcoming campus events and media mentions, delivered to your inbox every other Wednesday. View past issues here »
Sign up now!
Tweet