Success Story: Pitch Night prize results from innovation incubation
October 24, 2018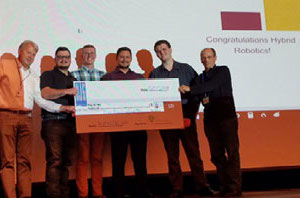 A quartet of NMC student entrepreneurs won the top prize at TC New Tech's October Pitch Night, bringing their product another step closer to market and bolstering the college's reputation as an innovation incubator.
Hybrid Robotics, comprised of four students in NMC's engineering technology and marine technology programs, was the crowd's "clear favorite" at the October 2 event, said Russell Schindler (on the left), founder of TC New Tech. In a Traverse City version of the Shark Tank TV show, they competed against four other companies seeking the $500 prize decided by a live audience vote at the City Opera House.
Each company got five minutes to pitch their idea and responded to five minutes of questions.
CEO Matt Goddard (second from left) co-presented their innovation, an unmanned aerial vehicle (UAV) capable of floating and deploying a remotely operated vehicle (ROV) into the water. The students built it in an engineering technology class last spring semester by customizing an off-the-shelf drone with everything from unique parts manufactured in the college's 3-D printers to foam balls from JoAnn Fabrics. They are now refining the unit and concept.
"We're trying to make a hybrid platform for the marine inspection industry," Goddard said. "All this is proof of concept and we're trying to get a production model by early next year."
The $500 prize won't get them there, but Schindler said Hybrid Robotics walks away with more than that one check.
"They now have bragging rights. They won the competition. It's kind of an endorsement of their product, that they're on the right track and deserve a second look by a serious investor."
Goddard confirmed he and his colleagues, Ryan Mater, Clayton Harbin and Aaron Bottke have had such conversations since, but couldn't reveal details.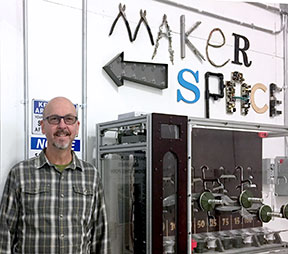 Hybrid Robotics is now shaping up to be the second viable company to emerge from NMC's Maker Space. Begun in 2014 at the Parsons-Stulen Building, the Maker Space offers both a place and a process for team-based, project learning that, when evolved to its highest level, can turn students into entrepreneurs. Interactive Aerial, a Traverse City company that specializes in drone inspections of interior, confined spaces, is the first.
"We wouldn't have been able to build this without the support of NMC," Mater told college trustees at an August presentation of the drone.
Instructor Keith Kelly (above), who taught the class in which the Hybrid Robotics team formed and developed their first unit, wants to see more.
"How can we make the transition with these teams from the college classrooms into startups?" Kelly asked. "That's really the exciting stuff."
View a video of the Hybrid Robotics vehicle.
Want more stories like this?
NMC students past and present are achieving success in the classroom and in their careers. This section showcases just a few examples.
Sign up for NMC Now to get these stories, plus upcoming campus events and media mentions, delivered to your inbox every other Wednesday. View past issues here »
Sign up now!
Tweet