Success Story: Dennos To Debut New Galleries As It Turns Quarter-Century Mark
September 15, 2015
Record donation makes expansion possible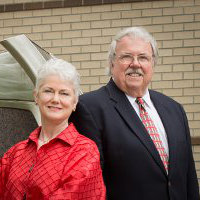 It was time for something big, Diana and Richard Milock decided.
NMC today announced the largest single gift by living donors in college history, a $2 million gift to expand the Dennos Museum Center. That gift also happens to be the largest ever for the Milocks, stalwart cultural philanthropists whose touch is evident everywhere in northwest Michigan, from Milliken Auditorium to the Bijou Theatre to the YMCA.
"We saw this as an opportunity to have a major impact on a community resource that we think is really important to the life of Traverse City. We're really just so excited to be able to do this," Diana Milock said.

The 9,000-square-foot expansion will house two new galleries intended to be named, respectively, the Gene Jenneman Permanent Collection Gallery and the Diana and Richard Milock Sculpture Gallery.  The former honors the museum's founding director. Under Jenneman's quarter century of leadership the Dennos has built a strong permanent collection of works, but most sit in storage.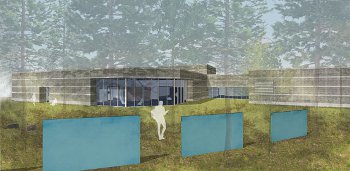 "We have wonderful works of art and there just isn't room to show them," Diana Milock said.
Art lovers and collectors themselves, the Milocks have supported both the Dennos and NMC's Great Lakes Culinary Institute for more than a decade.  Diana Milock has a special affinity for sculpture, which will be evident in the expansion. Windows lining one wall of the expansion will connect the new sculpture gallery to existing outdoor sculptures that surround the museum.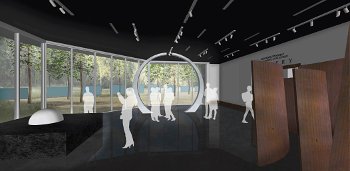 "I love outdoor sculpture. If we have access from the interior to observe the exterior, it's a natural to fill that in," she said.
The donation will also fund loading dock and storage improvements and a new classroom space.
"This gift from the Milocks speaks strongly to the support that Northwestern Michigan College has earned from this community and our shared desire to strengthen NMC's role as a leader in providing cultural opportunities," said NMC President Timothy J. Nelson.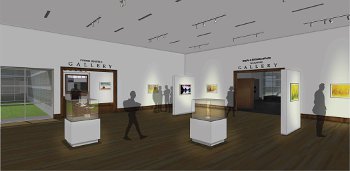 "I am pleased to see this next step in the direction of the Dennos take place in our coming 25th year," Jenneman said. "With these permanent collection galleries we will be positioned to make our art collection more accessible on an ongoing basis and to develop more defined connections to the College's academic programs."
Preliminary architectural drawings are complete. NMC hopes to bid the project in early 2016, the museum's 25th anniversary year, and break ground later in the year.
Want more stories like this?
NMC students past and present are achieving success in the classroom and in their careers. This section showcases just a few examples.
Sign up for NMC Now to get these stories, plus upcoming campus events and media mentions, delivered to your inbox every other Wednesday. View past issues here »
Sign up now!
Tweet