Success Story: Food pantry, Thanksgiving meal project help fill rising demand
November 23, 2021
On Monday, culinary student Michelle Carrizales brought home something besides books and her knife kit to her family in Harrietta — a Thanksgiving meal, courtesy of an NMC business class which organized and executed the meal drive as a class project.
The meal means that the Carrizales family of four will get to spend a stress-free holiday together. Husband Richard is home after working out of state for a few months. Michelle gets a breather from juggling work and school and her hour-long one-way commute to classes in Traverse City. Their two kids will be on school break, and will lend her a hand cooking the meal that Carrizales didn't have to scour stores for sales or coupons in order to put on the table.
"It's been a pretty stressful last couple of months," said Carrizales. "We're just looking forward to sitting down and not doing anything."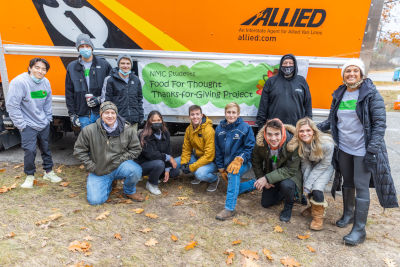 The Carrizales family is one of more than 125 who received donated meals from the business class, taught by Kristy McDonald, (pictured right, far right.) This was the eighth year McDonald's class has completed a meal or food drive as an experiential learning project. Recipients were selected through Big Brothers Big Sisters and the NMC Food Pantry. Marking its fourth anniversary this month, usage is at its highest level since it opened. NMC counselor Paul Kolak, a member of the food pantry committee, said the college is always trying to improve the service, and just this month added an ordering system from Costco.
"We're trying to step up our game and offer more fresh and frozen options," he said.
The pantry served 164 and 196 people in September and October, respectively. Those are the two highest months for utilization since the pantry opened in November 2017. So far this academic year average monthly people served, at 146, and average monthly orders, at 11, are both significantly higher than the 2020–21 academic year, when the pantry averaged 102 people served and 4 orders per month.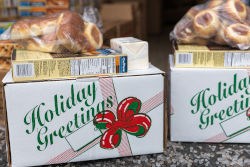 Being a student is the only requirement to use the food pantry, Kolak said. An online order form is available 24-7, and orders are packed for pickup five days a week. He said the pantry's support from donors and its continued use are both gratifying.
"Seeing how students have latched onto it and are thankful for it, and keep using it," strikes Kolak the most about the past four years. People can donate at nmc.edu/give by typing "food pantry" into the "designate my gift" field.
"Once they heard about the need, they helped fulfill the need. That's been huge," Kolak said.
Carrizales said she has accessed the food pantry from time to time, when her own pantry is running low or on a week in between paydays.
"It means a lot that the school does these programs," she said. "I'm very grateful."
Want more stories like this?
NMC students past and present are achieving success in the classroom and in their careers. This section showcases just a few examples.
Sign up for NMC Now to get these stories, plus upcoming campus events and media mentions, delivered to your inbox every other Wednesday. View past issues here »
Sign up now!
Tweet