Success Story: LEARNing from Survivors debuts at NMC
October 23, 2019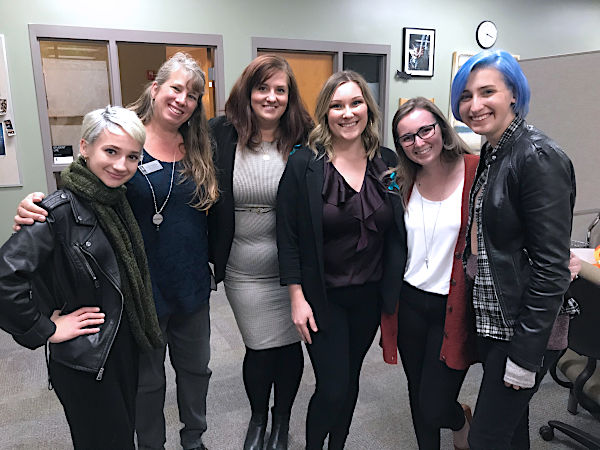 From left to right: Presenter Morgan McCaul, NMC Dean of Students Lisa Thomas, Jackie Jorgensen (NMC counselor) Emmy Hendry (intern), Amanda Van Oordt (intern) and presenter Amanda Thomashow.Sociology, psychology and law enforcement students packed Scholars Hall Tuesday for the inaugural presentation of LEARNing from Survivors, as NMC continues ongoing efforts to empower students by increasing awareness of sexual assault and campus safety.
The presentation by Morgan McCaul and Amanda Thomashow of Michigan-based Survivor Strong addressed establishing boundaries and other characteristics of healthy relationships. Their inclusive, trauma-sensitive approach is personal — they were among dozens of victims who came forward during the sexual abuse trials of former USA gymnastics team doctor Larry Nassar in 2017–2018. They identified and addressed harmful behavior and unhealthy relationships, and options for survivors of sexual and gender-based violence on campuses.
Police Academy student Monte White said the presentation will help him in his chosen career.
"Hearing it from a victims, how they deal with it, cope with it, they went pretty deep. I appreciate that," White said. "I think it's real helpful."
Psychology student Skye Hatt said she found the presentation, "really, really enlightening." An assault victim herself more than five years ago, she said she almost cried when the presenters told the audience their approach is founded on believing victims.
"It's nice to see so many people," she said, noting that the 150-seat room was full. In addition to the three classes, NMC Student Life staff and counselors attended, as did staff from the Women's Resource Center of Traverse City and Polestar LGBT+ Community Center.
LEARNing from Survivors advocates that supporters of victims should Listen actively, Empower and support, Ask and give control back, Respond, and Nurture.
The appearance was arranged by NMC's Office of Student Life, which has worked toward a safe campus for all students and staff with several other events, including:
"We have new students, including high school students, every semester," said dean of students Lisa Thomas. "We can't assume everyone's childhood included explaining what healthy boundaries are."
Want more stories like this?
NMC students past and present are achieving success in the classroom and in their careers. This section showcases just a few examples.
Sign up for NMC Now to get these stories, plus upcoming campus events and media mentions, delivered to your inbox every other Wednesday. View past issues here »
Sign up now!
Tweet