Success Story: From dropout to Dean's List
December 16, 2020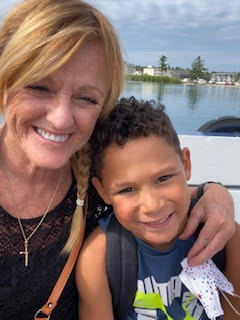 Pamela and Mason SilvaAsk NMC student Pamela Silva what she wants for Christmas, and the 56-year-old Traverse City resident will likely say she already has everything she could want: her children and grandchildren, good health, a job, and a 4.0 grade point average.
Her NMC instructors will say Silva's greatest gift is what she shares willingly: the grit and perseverance that allowed her to prevail over real-world challenges.
"I feel so blessed that I get to go to school, that I get to learn, that I get to do what I enjoy," said Silva, a one-time high school dropout. Since then, she's navigated single parenthood, losing a kidney, cancer and a career change.
Nicole Fewins, Silva's business math instructor, says her contributions to student forums enriched the class with value that a textbook or lecture can't provide.
"It really makes a difference," Fewins said.
Becca Richardson, who taught Silva for two semesters, said her maturity in the classroom— always prepared and putting forth her best effort — was welcome.
"She always made the class environment an optimal environment," Richardson said. "She gave the other students a good example to follow."
It was a turnaround for Silva, too, who belatedly earned her high school diploma in 1987 and briefly attended NMC in the early 1990s, but didn't complete her degree.
"I felt like I didn't need a Plan B," said Silva, who then earned a good salary in retail management, and had worked hard to build back her credit and financial security after her health issues.
"When I had cancer, financially it took me under. I fell between every crack that there was," Silva said.
But the job required constant travel between the 27 stores she managed and she found life in a corporation stressful. She changed careers, going to cosmetology school and taking over her mother's hair salon, PS Perfect Styles. She became a grandmother. The best was yet to come, however.
Cancer had eliminated the possibility of siblings for Silva's only daughter. Yet she became a mother again in 2015, when she adopted her step-grandson Mason.
"I was never able to have more children, and I always wanted more," she said. She took the salon down to "extreme part-time" to focus on raising Mason. But the lesson from decades ago had stuck with her, and in fall 2019 as her son began kindergarten, she enrolled at NMC to finish what she started.
"I have this whole second chance to do it all over again," Silva said. "It's definitely what drives me."
She chose accounting, a stable, good-paying, sit-down job, as one she could do as she grows older.
"Having such a young child, I had to rethink retirement and what I will be able to continue doing," she said.
They had one normal semester before the coronavirus pandemic hit. Mason's school went virtual. Silva considered whether she should stop out again, but decided to stick with it. Now she supervises six-year-old Mason's online classes during the day while nannying for a two-year-old. Evenings she works in her salon. Nights and weekends are for her own classes, and NMC's online options are key.
"I am able to fit my studies into my schedule, not fit my schedule into my studies. That's very important for a single working parent," she said. "I am certain that the work I am doing now will improve my son and my future."
Want more stories like this?
NMC students past and present are achieving success in the classroom and in their careers. This section showcases just a few examples.
Sign up for NMC Now to get these stories, plus upcoming campus events and media mentions, delivered to your inbox every other Wednesday. View past issues here »
Sign up now!
Tweet