Success Story: 16 employers choose NMC Training for Going Pro funds
February 13, 2019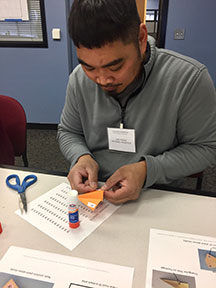 In a matter of one hour Tuesday, Traverse City's ABC Aerospace increased airplane production 15-fold, flipped from losing money to turning a profit, cut overhead by more than half and reduced product backlog.
ABC Aerospace may be a fictitious company, whose airplanes are made of paper. But the lessons the Lean manufacturing simulation exercise taught participants will have real payoff for their northern Michigan employers: Grand Traverse Plastics and Bay Motor Products in Traverse City, Petoskey Plastics, and Tube Fab in Afton.
The four companies are among 16 northern Michigan employers NMC Training Services will work with this year in the latest round of state Going Pro Talent Fund grants, totaling $1.4 million regionally. Training is offered on-site at the employers' facilities as well as in multi-company collaborative trainings like Tuesday's kickoff, hosted at NMC's Parsons-Stulen Building.
"We think very highly of the program. All the teachers there are very strong," said Bay Motor Products President Andy Robitshek. Since 2015, about two-thirds of the company's 40 employees have taken NMC Training's Lean courses, including multiple employees Tuesday.
"Rich (Wolin, Training Services director) has assembled a great team and they are providing a significant benefit to the manufacturing organizations in the area," Robitshek said.
Tuesday's training exemplified the Lean goal of continuous improvement: "Each time we're doing it, we're getting better," said Brandon Cary, a process engineer at Grand Traverse Plastics, of successive paper airplane assembly "shifts." Cary said he had been exposed to some Lean principles in the past, but was looking forward to learning more in the 96-hour training and sharing it with 120 colleagues at GTP.
"It's just good. I want to move on to great," he said of his Lean knowledge.
"It's bringing problem-solving out into the open," said Cary's Tuesday teammate Connie MacLeod, who works in quality control for Tube Fab, which employs about 150 people to manufacture small diameter specialty tubing.
In addition to Lean manufacturing, NMC will train companies in ISO compliance, leadership skills and welding. Going Pro funding comes through Michigan Works and is capped at $1,500 per employee. Funds are spread across 31 different project and must be used by Sept. 1.
"It really makes a difference," said Betsy Williams of NMC Training Services. "A lot of organizations couldn't afford to do the training without it."
Companies range from large to small. Photodon, a Traverse City manufacturer of computer screen protectors and privacy filters, has 10 employees.
"We're hoping to have a lot less scrap," said office manager Mandy Peterson. "Also to have us a little more standardized in our workflow, so when new employees come in, they know exactly what they're supposed to be doing."
Williams said that in addition to manufacturers, service-oriented companies are now seeking Lean training, such as Traverse City's TruNorth Landscaping.
Want more stories like this?
NMC students past and present are achieving success in the classroom and in their careers. This section showcases just a few examples.
Sign up for NMC Now to get these stories, plus upcoming campus events and media mentions, delivered to your inbox every other Wednesday. View past issues here »
Sign up now!
Tweet