Success Story: Aiming to halt veteran suicide with 22 To None
October 26, 2016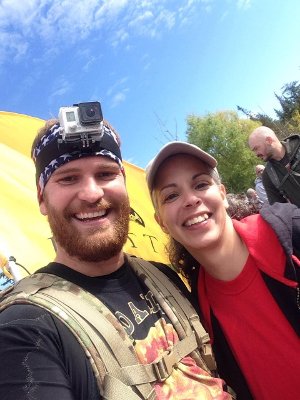 Luke Clark and Sherry Trier at the 22 To None hikeFall color tourists to northern Michigan also got a red-white-and-blue view last Saturday, as veterans and supporters organized by NMC's Student Veterans Association hiked 22 miles to raise awareness of veteran suicide.
"We walked right down (U.S.) 31. It was pretty amazing, seeing people honk and give us the thumbs-up," said SVA president and social work student Luke Clark of the Kewadin-to-Traverse City route, which symbolized the 22 veteran suicides that occur daily in the U.S. "It was pretty spectacular, minus the soreness of it."
Clark, 27, has firsthand experience with the grim suicide statistics, which have propelled a grassroots, social-media fueled awareness campaign to help veterans struggling after their service.
"Two of my brothers from my unit killed themselves since we got back from Afghanistan," Clark said.
More than 5 percent of NMC's student population is veteran, active duty and reserve/National Guard members. NMC this year was ranked one of the top five "Best for Vets" community colleges nationwide. Campus supporters strive to meet the unique needs of this group individually, too.
"It's heartbreaking, the statistics, to know that 22 a day we lose," said Sherry Trier, NMC Instructional Technology Specialist. She volunteered for the first leg of the hike and then walked 16 miles herself.
"Military folks have a special place for me," said Trier, whose father and older brother both served in the Marines, as does her nephew, now stationed in Kuwait. "It was so worth it, any ache, any pain, to be there and support it."
Trier said the last four miles were difficult physically, after she had a problem with her shoes, but, "if I had to crawl, I would have finished."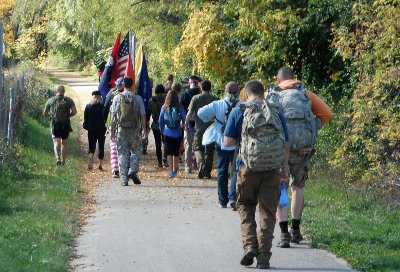 "On the family side, you don't forget the experience," said Trier, who helps organize NMC's annual Veteran's Day commemoration (again set for Nov. 11 this year) makes chili for the SVA chili cook-off and occasionally delivers dog biscuits to the SVA lounge in West Hall for veterans' service and therapy dogs.
"You never know who's having a bad day," she said of those small things she can do for veterans. "There's people here, we're here to support you."
That message came through loud and clear Saturday, Clark said.
"It was pretty amazing. It was beautiful," he said. "It's a real sign of the fact that we are not alone. There are organizations and institutes out there that will help us."
Participation in the walk was free but donations collected will go to Traverse City's Reining Liberty Ranch, which provides free equine therapy to veterans.
Want more stories like this?
NMC students past and present are achieving success in the classroom and in their careers. This section showcases just a few examples.
Sign up for NMC Now to get these stories, plus upcoming campus events and media mentions, delivered to your inbox every other Wednesday. View past issues here »
Sign up now!
Tweet