Success story: Hawk Owl heads to Harvard
August 28, 2019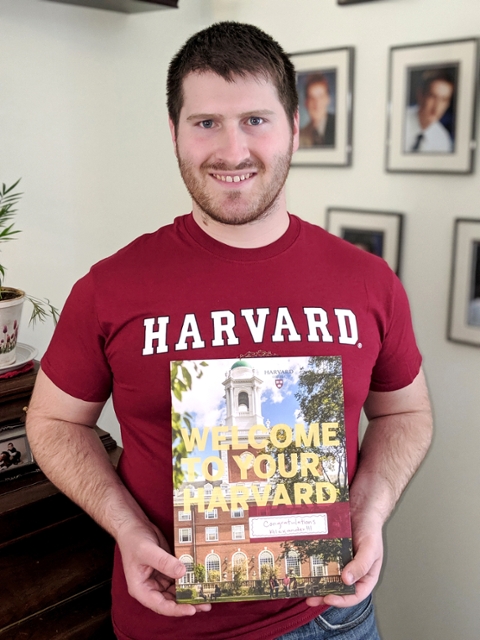 Add up an NMC associate degree, a thin credit history, a stint in the Navy and a love of travel and you get Harvard University sophomore Alex Walsh (NMC 2012), who will start classes in Cambridge, Mass. next week.
He's one of just a dozen transfer students admitted among 1,600 applicants to the most venerable of the Ivy League institutions. But long odds didn't daunt Walsh, preternaturally disposed to optimism.
"Shoot for the stars, see what happens. The worst they could say is no," said Walsh, 27, who was also admitted to the University of Michigan and Michigan State. "Being able to find ways to push myself at NMC, challenge myself, helped put me on this path."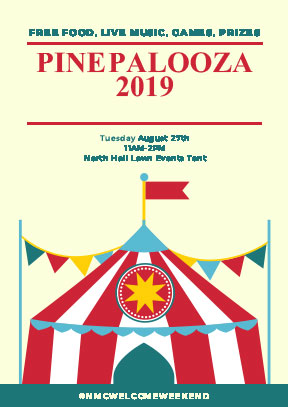 "This path" started with participating in a wide range of activities and clubs at NMC, including NMC magazine, the White Pine Press, Anime Club, International Club and the NMC Policy Council. (NMC yesterday hosted Pine Palooza, an annual fair that introduces students to dozens of campus groups and organizations.) Walsh was also a member of Phi Theta Kappa, the international community college honor society. He credits PTK adviser Kari Kahler and instructors Jim Bensley, Amjad Khan and John Zachman as among his NMC mentors.
Yet when he graduated, Walsh didn't have enough credit history to get the student loans he needed to continue his education. So he joined the military, both for the GI benefits down the road and the opportunity to travel in the short term, a love kindled in the NMC International Club. He chose the Navy specifically because it offered more opportunity to travel than other branches, and lived in Spain for more than three years and visited 25 different countries.
In 2017 he took the SAT and scored higher than he expected. Though Ivy League schools are notoriously picky about transfer students, he decided to add Harvard, Princeton and Yale to his list when his Navy contract was up. A veteran transition program, Service to School, also matched him with a mentor whom Walsh said was vital in the decision process.
He'll enter Harvard as a sophomore and plans to major in economics and minor in government, likely international relations. An MBA or law school could follow. Walsh hopes to work in a capacity that grows the global economy, staying in touch with his love of international relations.
"I would like to be on some kind of a career path where I can provide opportunities to those who would not otherwise have opportunities," he said. Options he wants to explore through internships include working with infrastructure and business development in central America or Asia, working with refugees of war or conflict, and serving in the Foreign Service as an economic or political adviser.
Between the GI Bill®, Harvard scholarships and grants, Walsh said his entire tuition bill will be covered.
"That's pretty exciting too," he said.

GI Bill® is a registered trademark of the U.S. Department of Veterans Affairs (VA). More information about education benefits offered by VA is available at the official U.S. government Web site at https://www.benefits.va.gov/gibill.
Want more stories like this?
NMC students past and present are achieving success in the classroom and in their careers. This section showcases just a few examples.
Sign up for NMC Now to get these stories, plus upcoming campus events and media mentions, delivered to your inbox every other Wednesday. View past issues here »
Sign up now!
Tweet