Success Story: Passports + Scholarships + Safety
January 22, 2020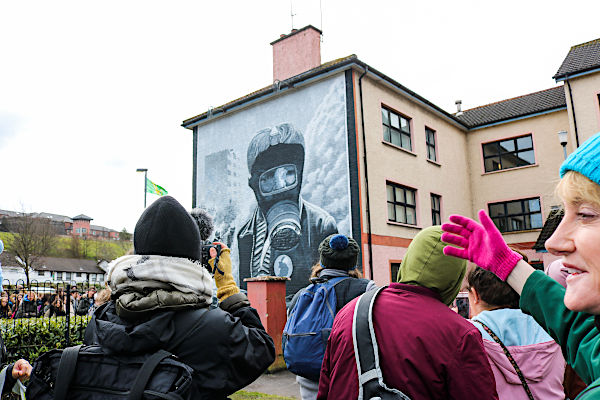 NMC students from NMC's Western Religions course examine the Derry Murals and the sordid history of "The Troubles" in Ireland.A near-record number of NMC students will study abroad in five countries this spring, gaining experiences to help them succeed in an increasingly global society.
Seventy students are registered to travel to Iceland, Ireland, Spain, England and Brazil. The previous high was 73 in 2015. Between 60-65 students have traveled each of the last three years, ranking NMC the No. 1 community college in Michigan for short-term study abroad, and usually in the top 25 nationally.
Faculty have been driving the additional interest this year, said Jim Bensley, director of International Services and Service Learning. Biology instructor Greg LaCross, who will co-lead the Iceland trip, says students gain lifelong benefits abroad, including maturity, self-assuredness and an appreciation of the world and different cultures. Once home, they share that.
"It's kind of a ripple effect. You tell one person, it sparks interest in the world beyond your borders," said LaCross, who has also led trips to South Africa and Ecuador and the Galapagos Islands. "You don't want to suffer from a parochial view of the world."
Students agree that soft skills, in particular, improve on the trips. Those skills go with them into the workplace and community.
"The experience overall has served to benefit my patience, my perspective, and my humility," said Jacqueline Ewing, who traveled to Brazil in 2016.
New this year, students will earn credit specifically for the study abroad experience. Previously it was part of the regular class credit. Most trips take place during spring break at the end of March, or immediately after the spring semester ends, in early May.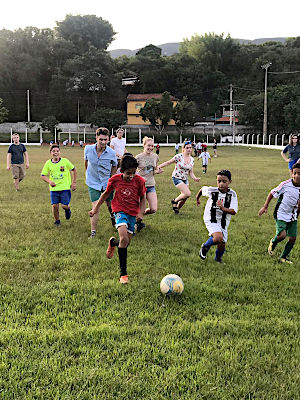 In Tiradantes, Brazil, future soccer stars show their U.S. visitors from an NMC study abroad trip how the game is played."They're not just traveling to see the sights. Our experiences are integrated with the curriculum being taught in the classroom," Bensley said.
"It fits right into my teaching. It reinforces it and helps the students understand it in a larger context," LaCross said.
Iceland (biology and freshwater studies) and Spain (culinary) are both new destinations in 2020. Aviation and archaeology students have previously visited England, and this year nursing and surgical technology students are making the trip.
Safety and security of students and faculty is a top priority of all trips. NMC works closely with in-country providers and host institutions, as well as U.S. agencies including the State Department and Centers for Disease Control.
"We've been smart in the way we've developed the programs, the places we've visited, and the teams we've built," Bensley said. "We always attempt to mitigate any risk to our students and faculty," he said.
Financial aid is also important to a successful study abroad program. Forty students received NMC's Global Opportunities Scholarship. Sixteen culinary students received A Taste of Success scholarship.
Want more stories like this?
NMC students past and present are achieving success in the classroom and in their careers. This section showcases just a few examples.
Sign up for NMC Now to get these stories, plus upcoming campus events and media mentions, delivered to your inbox every other Wednesday. View past issues here »
Sign up now!
Tweet