Success story: Transfer student Maddy Jenner is Dean's Research Scholar at MSU
April 12, 2017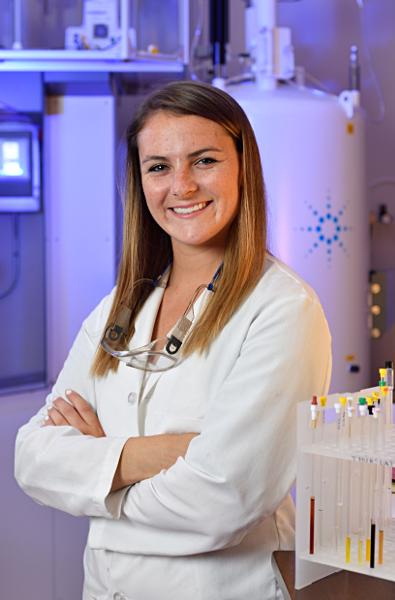 MSU Dean's Research Scholar Maddy Jenner
Photo by Harley Seeley You might say it was chemistry when Maddy Jenner sat down in NMC instructor Blake Key's classroom in 2014.
The Traverse City West High School graduate hadn't chosen a major and enrolled in Introductory Chemistry to fulfill a science requirement. She found a career calling.
"As soon as I had that fall semester done with, I knew for sure chemistry was it," Jenner said. "(Key) was the one who inspired me to go into chemistry when I was in his class."
She transferred to Michigan State University a year later and is now wrapping up a year as a Dean's Research Scholar, a prestigious group of a dozen selected among 5,000 science and math majors in the College of Natural Sciences.
Undergraduates don't often do research, but when Jenner heard about the opportunity she stepped right up.
"I want to do research as a career," she said.
Her research in the field of aromatic compounds focuses on minimizing the side effects of drug interactions. The experiences of family and friends led her to the realm of pharmaceutical research.
"I know that I can make a difference in that kind of world," she said.
The experience also required public speaking to alumni and donors, valuable to her future.
"I really enjoyed this experience because I have to talk about my research to a non-scientific audience," she said. "Being able to explain it to other people is really important to me now and for my career in years to come."
Jenner expects to graduate in 2018 and is considering graduate schools. Her top choice now is the University of North Carolina, home to highly-regarded pharmaceutical sciences program.
Key isn't surprised by the achievements of his former student.
"It was apparent really early that she was turned on by what was going on in the class," he said.
Jenner said her NMC years prepared her well for what lies ahead.
"The difference from community college to university was not as huge as I thought it would be," she said.
One thing Jenner would like to see: more fellow female students.
"I do have a couple labs where I am the only girl out of 30 people," she said. "Earlier on, when I was just declaring my major, I would have people, especially guys, tell me, 'I don't know, that's a hard major.'"
That implicit doubt of her abilities used to bother her, but no longer.
"I'm way past that point now," she said. "I know my capabilities, even if it means being the only girl in the lab."
Want more stories like this?
NMC students past and present are achieving success in the classroom and in their careers. This section showcases just a few examples.
Sign up for NMC Now to get these stories, plus upcoming campus events and media mentions, delivered to your inbox every other Wednesday. View past issues here »
Sign up now!
Tweet