Success Story: UAS Alumni Lead Industry Forward
February 25, 2015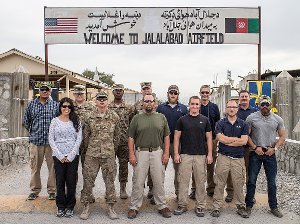 Back in 2012, as one of NMC's pioneer students in Unmanned Aircraft Systems, Brad Kent found himself with a job offer before he'd even finished his training, and headed overseas for six-figure work as a civilian contractor. Now, as approvals for domestic use of UAS rise by the week, Kent and fellow former NMC students are poised to help guide the industry's development into its second, commercial phase.
NMC was on the forefront of unmanned aircraft training, offering its first classes in the fall of 2010. Students like Kent (front row, second from right) and Darrell Trueblood (back row, far right) found getting in on the ground floor paid off, literally
"Before I even finished my degree I had placement in industry," said Kent, 24, of Traverse City. He and Trueblood, 35, are among four NMC pilots now deployed in Afghanistan as civilian contractors with an Arizona-based manufacturer of UAS.
They provide force protection services to military, a job both see as worthy and important. Lengthy deployments and life on a military installation create a trade-off, however. "Balancing the benefits of income vs. the moments you miss with your friends and family becomes the tough part," said Trueblood, who is married and a father to three. His wife and three children live in Tennessee.
"It puts a strain on relationships, it puts a strain on a social life," said Kent, who still says it's an "amazing experience" to work overseas.
UAS industry gets go-ahead to expand
Now, however, the strains and trade-offs are easing as the UAS industry gets the go-ahead to expand domestically.
Until 2014, the FAA strictly limited use of UAS vehicles in U.S. airspace. The first commercial exemption was granted in June 2014, allowing surveillance of oil fields in Alaska. Since December 2014, the FAA has approved more than 20 other exemptions for uses ranging from photography to agriculture.
Kent anticipates returning stateside later this year, to corporate headquarters in Tucson, Ariz. He'll work on UAS research and development and train other pilots to fill the vast number of openings the industry expects as commercial permissions expand. "With pending FAA regulations for Unmanned Aerial Systems on the very near horizon, growth in this industry will be immense. Activities like movie production, agriculture monitoring, and infrastructure inspection will become an everyday occurrence, requiring trained professionals," said Tony Sauerbrey, UAS program manager.
"This career field will grow exponentially in the coming years, both with pilots and support staff," Trueblood agreed. His advice to prospective students is to be open to change.
"What you know today may be different from what you learn tomorrow. Be willing to continuously learn and continue your education," he said.
It was that kind of attitude that led Kent to enroll in the first UAS classes.
"At the time it was a couple classes that you could add on if you were going through the manned aviation program," Kent said. "NMC was very cool in the fact that they were willing to offer classes like that, new technologies."
Sauerbrey said NMC will continue to grow with the industry and plans to offer full UAS pilot certification once the FAA finalizes regulations. NMC will also continue to work with leading UAS companies to provide a conduit for students seeking to enter the industry.
Want more stories like this?
NMC students past and present are achieving success in the classroom and in their careers. This section showcases just a few examples.
Sign up for NMC Now to get these stories, plus upcoming campus events and media mentions, delivered to your inbox every other Wednesday. View past issues here »
Sign up now!
Tweet