Success story: New culinary leader ready to grow enrollment
June 12, 2019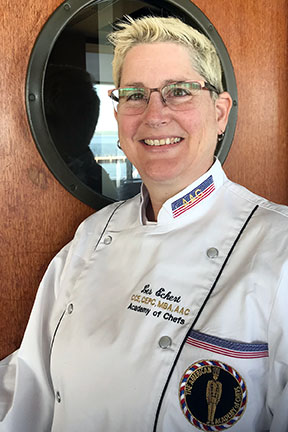 As a pastry chef, petit fours and artisan breads are Les Eckert's favorite things to bake, but as the new director of the Great Lakes Culinary Institute, she expects to focus on numbers and people.
Eckert, 51, (right) began her tenure at GLCI last week with a clear list of priorities: Increase enrollment, continue to improve student retention, get to know her team and insure GLCI is matching industry needs.
"We have to make the program so added-value that it's attracting students from across the state, across the country," said Eckert.
In taking the GLCI helm, she's done so herself. A Florida native, Eckert studied, taught and managed programs at three campuses of the International Culinary Schools, in Fort Lauderdale, Tampa and most recently, Raleigh, N.C.
She said the opportunity to direct an American Culinary Federation-accredited program following former director Fred Laughlin's retirement was a major attraction of the NMC position. In both Tampa and Raleigh she went through the ACF process. Valid for five years, accreditation assures students that a program meets a set of standards and competencies for faculty, curriculum and student services.
"It's an incredible feeling when your team has worked that hard," Eckert said, adding that accreditation should serve as a beacon to students, distinguishing GLCI from other culinary schools.
"That is a huge deal for a culinary school. Chefs in the industry... when you are a graduate of a program that has it, they know you have a solid background," she said.
As most GLCI students do, Eckert initially earned an associate's degree. She then went on to earn a bachelor's in culinary management and an MBA with a concentration in hospitality management. She hopes to cultivate a desire for career advancement among GLCI students, too.
"When you start building on those degrees, it really opens doors for you," she said.
Building upon traditions like the annual Great Lakes, Great Chefs dinner where GLCI chef alumni return to cook a fundraiser dinner alongside current students, Eckert would like to see alumni return as mentors, internship partners and speakers.
As a Floridian, she's also planning to try snowshoeing or cross-country skiing as a means of embracing her first northern winter.
"I'm just super excited to be here," Eckert said.
Want more stories like this?
NMC students past and present are achieving success in the classroom and in their careers. This section showcases just a few examples.
Sign up for NMC Now to get these stories, plus upcoming campus events and media mentions, delivered to your inbox every other Wednesday. View past issues here »
Sign up now!
Tweet