Success Story: Search firm selected as Nelson sets his priorities for final year
January 16, 2019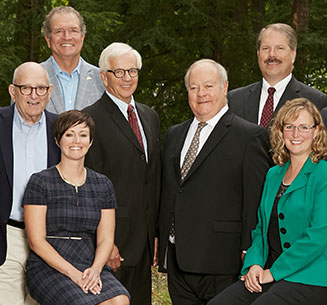 NMC's board of trustees: Front row: Rachel A. Johnson, Jane T. McNabb; middle row: K. Ross Childs, Michael Estes, Kennard R. Weaver; back row: Douglas S. Bishop, Chris M. BottFine-tuning the qualities desired in NMC's next president with input from stakeholders, developing a presidential profile and managing the search timeline are among the immediate tasks facing Pauly Group, Inc., the presidential search consultant college trustees selected this week.
Trustees' selection of Pauly Group, an Illinois firm with extensive experience in Michigan, was unanimous. Current NMC President Timothy J. Nelson will retire at the end of this year after assuming the office in 2001.
"Hiring a president hasn't occurred for 19 years," said board chairman Chris Bott, noting that only one current trustee, Ross Childs, was involved with Nelson's hiring. "They're a great firm to guide us through this process.
Key to the entire search will be creation of a profile of the desired candidate. Pauly Group will help trustees develop a process to obtain comprehensive input to that profile
"It's important we don't do this in a vacuum and alone," Bott said. "We truly want input from all the stakeholders — faculty, administration, staff, students, community members, alumni, Foundation."
Trustees cited the depth of Pauly Group's experience in Michigan as among the factors that set the Springfield, Ill.-based company apart from three other finalists interviewed last week. In its references, Pauly Group cited the placements of the current presidents of North Central Michigan College in Petoskey (2018), Lake Michigan College in Benton Harbor (2017) and Mott Community College in Flint (2014).
The search, which is expected to take about six months, comes on top of an already-busy year for the college and Nelson. During his final year leading NMC he has identified the following areas as some of his priorities:
Completion of the Timothy J. Nelson Innovation Center.
Securing key leadership positions including the Dennos Museum Center and Great Lakes Culinary Institute
Implementation of tools for assessing and analyzing student success initiatives
Successful completion of accreditation by the Higher Learning Commission and the Accreditation Commission for Education in Nursing
Progressing with Experiential Learning initiatives
Expanding alternate revenue streams including professional learning and fundraising
Want more stories like this?
NMC students past and present are achieving success in the classroom and in their careers. This section showcases just a few examples.
Sign up for NMC Now to get these stories, plus upcoming campus events and media mentions, delivered to your inbox every other Wednesday. View past issues here »
Sign up now!
Tweet