Success Story: Leadership realignment creates new executive role
September 1, 2021
Northwestern Michigan College is seeking its first-ever vice president of strategic initiatives, a newly-created executive role that will lead strategic planning implementation and innovation management at the college.
Specifically, the new vice president will be accountable for leading the college through implementation of the strategic plan that is now being drafted; leading NMC's innovation management process, including revenue-generating ventures; and serving as a point person for business partnership and local employers.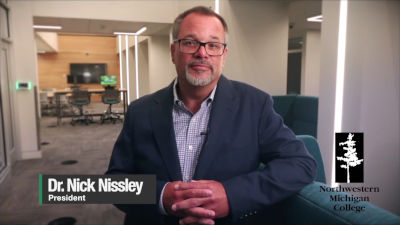 "We're at a unique point in our college's history," President Nick Nissley said in a recruiting video. "The pandemic has accelerated the transformation of higher education, allowing us to challenge our previous assumptions."
The new vice president, Nissley continued, will be charged to "develop new ways to springboard into the future to meet the evolving needs of our diverse stakeholders."
The position was created by realigning executive leadership responsibilities, and does not add an additional administrator. The vice president will oversee several existing departments including the NMC Marine Center, Extended Educational Services and the International Affairs Forum.
Each of these divisions serves a broader group of learners than traditional, post-high school, degree-seeking students. Demographically, that pool of students is declining in Michigan and nationwide, so the college aims to grow enrollment by reaching new populations, particularly adult learners who need credentials for advancement and professional development.
Massachusetts-based recruiting firm Spelman Johnson was retained to facilitate the nationwide search. Given the broad responsibilities, the position has drawn keen interest from dozens of applicants from around the country. NMC will begin reviewing applications this week and the position will remain open until filled.
"The ability to build strong relationships and to deliver results is at the heart of this role," Nissley said. "I believe an entrepreneurial spirit will inspire and excite our internal and external partners as we work toward shared success."
Want more stories like this?
NMC students past and present are achieving success in the classroom and in their careers. This section showcases just a few examples.
Sign up for NMC Now to get these stories, plus upcoming campus events and media mentions, delivered to your inbox every other Wednesday. View past issues here »
Sign up now!
Tweet